Things to Consider When Replacing Your Front Door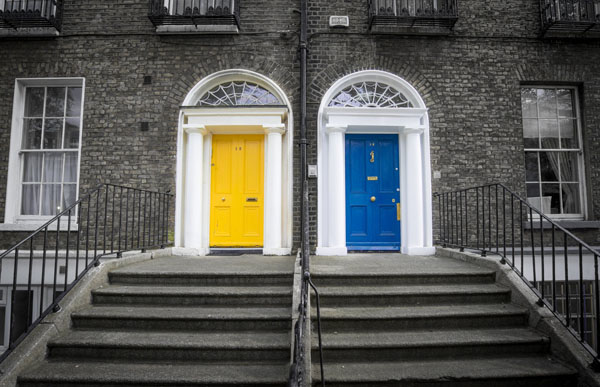 Your front door is one of the most functional, visible, and important elements in your home. If you're looking for a home improvement project that can boost curb appeal, improve security, and add style to your space, replacing your front door delivers an impressive return on investment.
What's Involved
The amount of work involved with replacing your front door depends on the age, style and location of your home. Historic homes often have odd-sized entryways, while even newer houses can shift and settle, leading to doorways that are less than square. Start by measuring up your existing door to determine if you can choose a ready-made model or if you need to have a custom door built.
Factors To Consider When Choosing A New Front Door
Security
Your front door serves to keep your home safe and secure. The stronger your door is, the better it will protect you and your family against break-ins and home invasions.
While design elements like large glass inserts in your front entry can add to the curb appeal of your home, they also make easy targets for criminals. Look for a door that includes reinforced materials around the lock and handle holes, covered hinges, and other safety features. If glass is a must-have,
Materials
Steel, fiberglass, and wood are the three most common materials used in the construction of exterior doors, with steel being the most affordable option. Steel doors are strong and durable, however, design options are limited and adding features like viewfinders can be difficult.
Fiberglass doors are quickly gaining popularity among home improvement experts thanks to the fact that they require minimal maintenance and come in a wide variety of styles, while wood doors deliver unbeatable curb appeal and custom styling at a premium price.
Just like wood floors and furnishings, wooden doors do require re-staining and sealing every few years - that's why front doors made of wood rarely come with a factory warranty.
Insulation
Upgrading the front door of your home can cut down on drafts, heat loss and heat gain, leading to improvements in your home energy consumption and comfort. Steel and fiberglass doors deliver the best R-value, while wooden doors and models with large glass inserts are less effective as insulators.
Color
Upgrading your existing door with a splash of color is a great way to instantly give your home unbeatable curb appeal.
Red is a popular choice when it comes to front door colors, although yellows, blues, and even black doors are gaining popularity. If in doubt about the color, snap a photo of your home and use a basic photo editing program to preview how different colors look before you commit.
Hardware
If you're looking for a specific hardware style or design for your new front door, consider choosing your hardware first, then selecting your front door based on your hardware. Doors can be ordered in a wide variety of styles, shapes, and materials, while door hardware is virtually impossible to modify and in many cases, costs more than the door itself.
Want to estimate your home improvement costs before talking with a contractor? Claim your home for free with bluehammer to estimate costs, secure your home inventory and learn more about your home.
* THIS REPORT IS AN OPINION THAT MAY BE INACCURATE AND IS PROVIDED SOLELY AS AN INFORMATIONAL TOOL NOT DESIGNED TO PROVIDE DEFINITIVE ANSWERS. ALL ELEMENTS ARE OFFERED "AS IS" AND BLUEBOOK EXPRESSLY DISCLAIM ANY AND ALL WARRANTIES, REPRESENTATIONS, AND GUARANTEES OF ANY NATURE, EXPRESS, IMPLIED OR OTHERWISE, INCLUDING BUT NOT LIMITED TO ANY IMPLIED WARRANTIES OF MERCHANTABLITILY, NONINFRINGEMENT, TITLE, QUIET ENJOYMENT, ACCURACY, OR FITNESS FOR A PARTICULAR PURPOSE. IN NO EVENT SHALL BLUEBOOK (OR THEIR SUPPLIERS) BE LIABLE FOR ANY GENERAL, DIRECT, SPECIAL, INCIDENTAL, INDIRECT OR CONSEQUENTIAL DAMAGES OF ANY KIND, OR ANY DAMAGES WHATSOEVER (INCLUDING WITHOUT LIMITATION, THOSE RESULTING FROM USE OF THE PRODUCT, INCLUDING : (1) RELIANCE ON THE MATERIALS PRESENTED, (2) COSTS OF REPLACEMENT GOODS, (3) LOSS OF USE, DATA OR PROFITS, (4) DELAYS OR BUSINESS INTERRUPTIONS, (5) AND ANY THEORY OF LIABILITY, ARISING OUT OF OR IN CONNECTION WITH THE USE OR PERFORMANCE OF INFORMATION) WHETHER OR NOT BLUEBOOK HAS BEEN ADVISED OF THE POSSIBILITY OF SUCH DAMAGES.