The Top-Three Considerations When Starting a Home-Based Business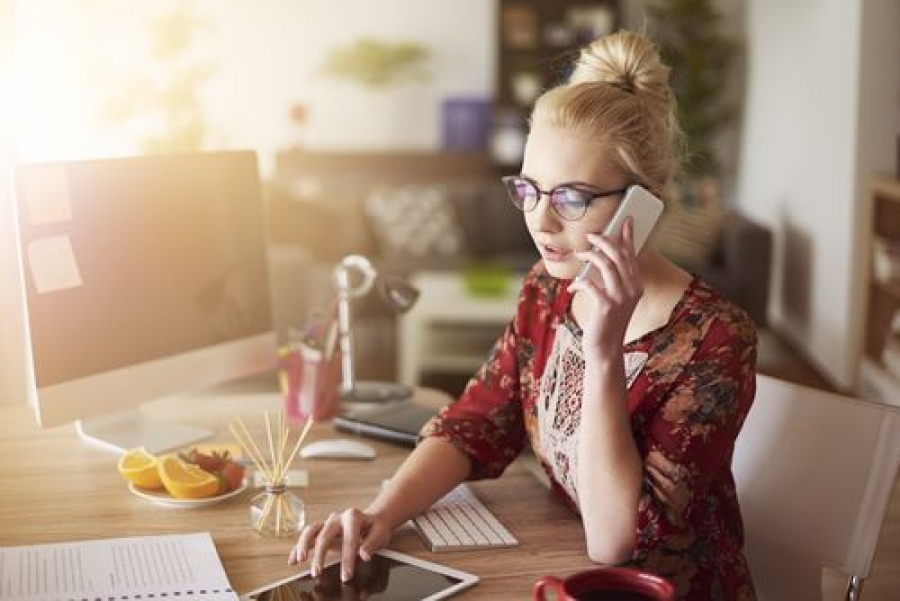 If you're considering starting a home-based business, you're in good company. According to the U.S. Small Business Administration, more than half of all businesses are run out of the owner's home.
If you've already weighed the pros (flexible lifestyle, lower operating costs, increased tax benefits, no commute) and cons (hard to separate work/home life, loneliness, business viewed as unprofessional), and decided a home-based business is right for you, here are the top-three things to consider as you get started.
1. Setting Up Your Workspace
Setting up your home office is priority No. 1 for your home-based business. Without a doubt, having a dedicated office space equipped with everything you need to run your company efficiently and professionally will be key to your success.
Now, you don't have to necessarily create a new office, but rather a workspace that's set up solely for business purposes, a setting where you feel comfortable working — and that's relatively free from distractions.
Keep in mind you can deduct any expenses related to the setup and ongoing use of your home office on your taxes. What are some necessities for a home office? Typically, that's largely industry-specific, but in general, you will need the following:
Office supplies. Setting up a home business from scratch can be a daunting task, and you don't want to spend several days or weeks buying supplies you didn't realize you would need. No one wants to bite more than they can chew, so visit the home office of a colleague or friend and make a list of supplies they use. Your best bet is to stock up on supplies like envelopes and stamps, printer paper, pens and file folders.
Appropriate technology. At a minimum, you'll need a laptop or desktop computer for you and any employees as well as a printer/scanner and high-speed Internet connection. Think about other devices and software that would make your workday easier. This might include a headset and video camera for video conferencing or project management software to keep you and any employees or contractors on track.
Phone system. If you have customers or vendors who need to reach you by phone, you should invest in an office-only phone system. Consider the nature of your business and volume of incoming calls you expect. For many small businesses, investing in an interactive voice response system, which allows you to create automated prompts to more easily field customer calls and route calls to different departments, will save you time and money, while increasing customer satisfaction.
Backup plans. At some point, something will go wrong in your office — your Internet or phone connection will go down or your computer will crash — and you'll need to have a contingency plan in place. Do you know of a nearby co-working space? Is your work backed up in cloud-based storage? Do you have a local IT professional on speed-dial? Think through the worst-case scenarios and plan how to keep your business running smoothly.
2. Establishing Sound Budgeting Principles
Developing a realistic budget for starting and running your home-based business is essential to its success. While you'll no doubt save money on renting office space, you're still bound to incur a wealth of one-time and recurring expenses.
With that in mind, research how much money you'll need to set up your home office, market your business, secure licenses and permits, and pay any employees or contractors. Find accounting software you feel comfortable using. For small businesses, Business News Daily recommends QuickBooks Online and Zoho Books.
3. Developing a Proper Marketing Strategy
One of the biggest challenges for home-based businesses is marketing a product or service. This is one area where you don't want to cut corners, especially if you have plans for growth. By working from your home, you'll need to work harder to market yourself as a professional and reputable business.
At minimum, you'll need a website, cohesive social media presence and professional business collateral (business cards, brochures, fliers) to get your name out there. Ideally, you'll work with a marketing expert to create a comprehensive marketing plan — an expense that will pay big dividends down the road.
Want to estimate your home improvement costs before talking with a contractor? Claim your home for free with bluehammer to estimate costs, secure your home inventory and learn more about your home.
* THIS REPORT IS AN OPINION THAT MAY BE INACCURATE AND IS PROVIDED SOLELY AS AN INFORMATIONAL TOOL NOT DESIGNED TO PROVIDE DEFINITIVE ANSWERS. ALL ELEMENTS ARE OFFERED "AS IS" AND BLUEBOOK EXPRESSLY DISCLAIM ANY AND ALL WARRANTIES, REPRESENTATIONS, AND GUARANTEES OF ANY NATURE, EXPRESS, IMPLIED OR OTHERWISE, INCLUDING BUT NOT LIMITED TO ANY IMPLIED WARRANTIES OF MERCHANTABLITILY, NONINFRINGEMENT, TITLE, QUIET ENJOYMENT, ACCURACY, OR FITNESS FOR A PARTICULAR PURPOSE. IN NO EVENT SHALL BLUEBOOK (OR THEIR SUPPLIERS) BE LIABLE FOR ANY GENERAL, DIRECT, SPECIAL, INCIDENTAL, INDIRECT OR CONSEQUENTIAL DAMAGES OF ANY KIND, OR ANY DAMAGES WHATSOEVER (INCLUDING WITHOUT LIMITATION, THOSE RESULTING FROM USE OF THE PRODUCT, INCLUDING : (1) RELIANCE ON THE MATERIALS PRESENTED, (2) COSTS OF REPLACEMENT GOODS, (3) LOSS OF USE, DATA OR PROFITS, (4) DELAYS OR BUSINESS INTERRUPTIONS, (5) AND ANY THEORY OF LIABILITY, ARISING OUT OF OR IN CONNECTION WITH THE USE OR PERFORMANCE OF INFORMATION) WHETHER OR NOT BLUEBOOK HAS BEEN ADVISED OF THE POSSIBILITY OF SUCH DAMAGES.