Double up! Stylish Solutions For Shared Bedroom Spaces
Fitting multiple kids in a house can be challenging, and when they have to double - or tripl - up (or more!) in one room, style can take a hit.
The obvious choice with multiple kids and beds is often a traditional side-by-side approach. But if you're looking for a more interesting or unique layout that has all the function with a little more flair, that's only the beginning.
Adjacent
How about putting the beds next to each other? Head to head probably won't foster an easy sleeping environment, but foot to foot might. This layout is also great for a smaller space because the placement of the beds along the wall leaves the rest of the room open. "Gaining in popularity, this layout allows for more open space in the room for playing," said Apartment Therapy.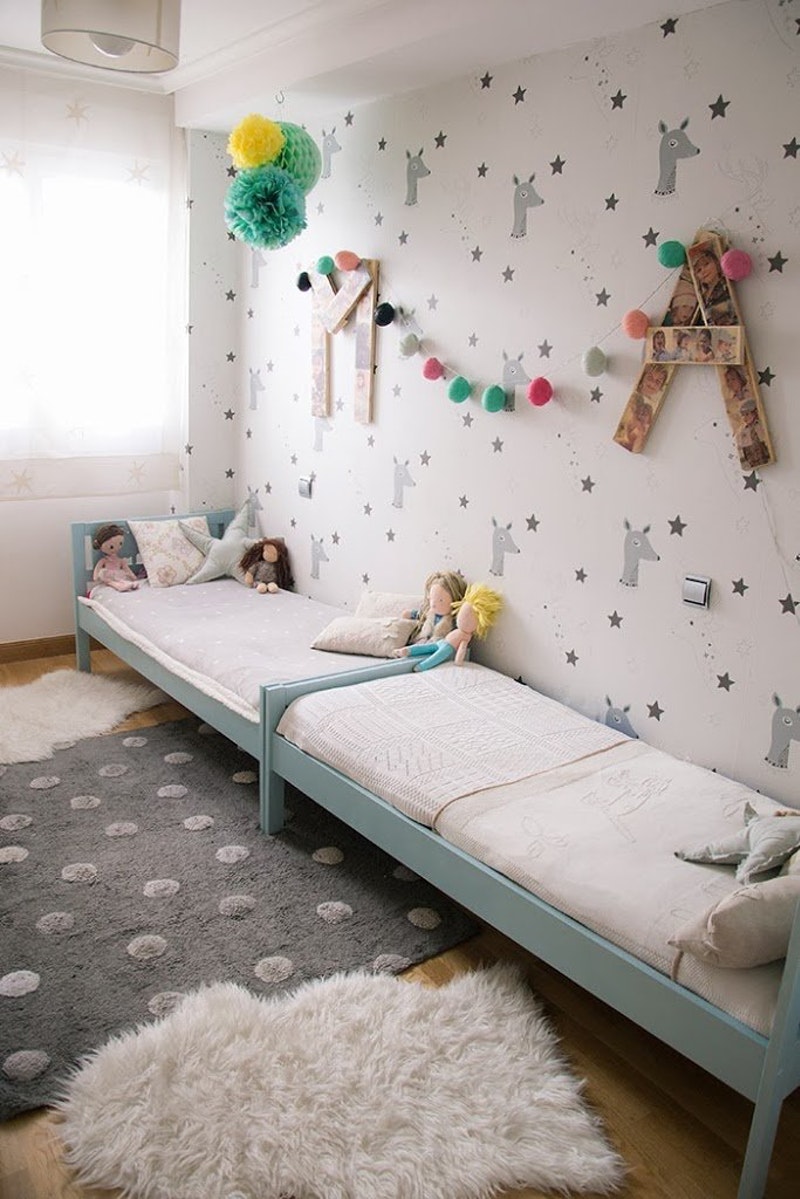 Apartment Therapy
If the idea of bunk beds brings to mind ugly framing with zero flair, you haven't seen some of today's more modern options. This room with four built-in bunks can work as a full-time solution or a vacation home, giving each sleeper a private space with their own light control and storage.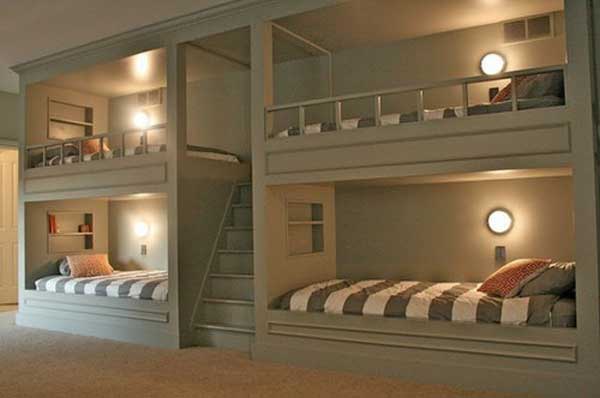 Freshome
Beachy-chic style, natural light, and privacy with each bunk getting its own window and set of drapes. What could be better?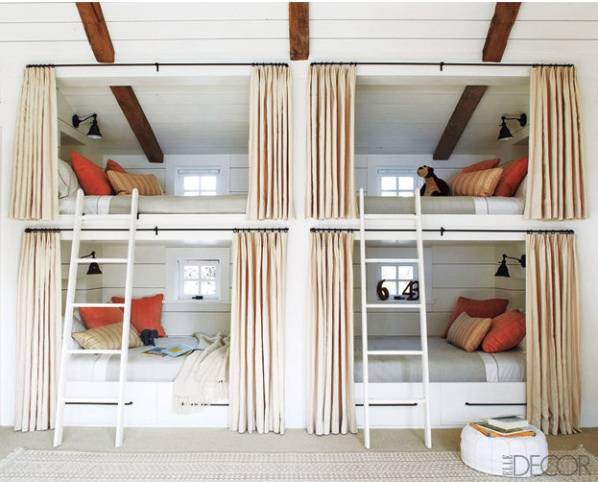 Elle Decor
Building in two bunks on either side of the room allows the area in the middle to become a chic, shared gathering space. The fir-paneled walls, custom built-ins, chandeliers, and luxe fabrics amp up the style.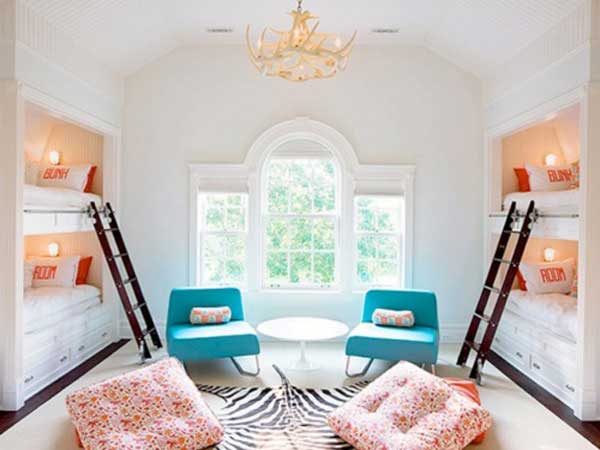 Freshome
Don't want to build in your bunks? This bunk bed improves on the typical store version with a modern and minimalist look.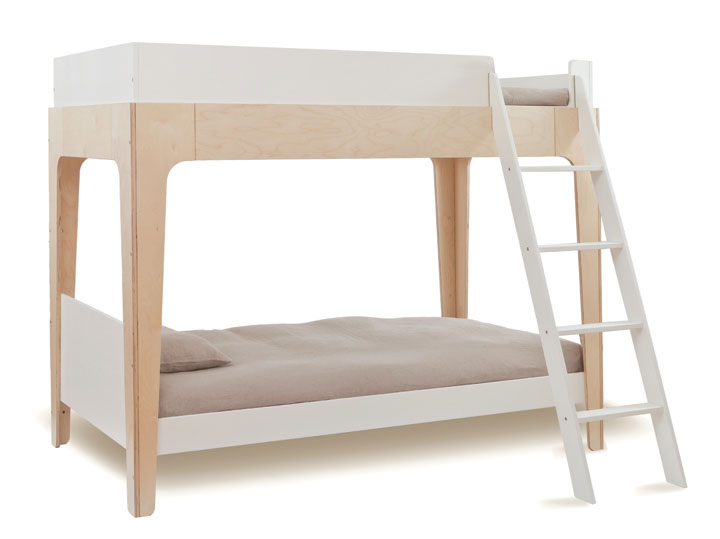 Decoholic
It's Murphy bed meets European train car with this smart solution.
Decoholic
Cool and compact but still with a bit of whimsy, this built-in maximizes space and gives kids their own fun little nook to love.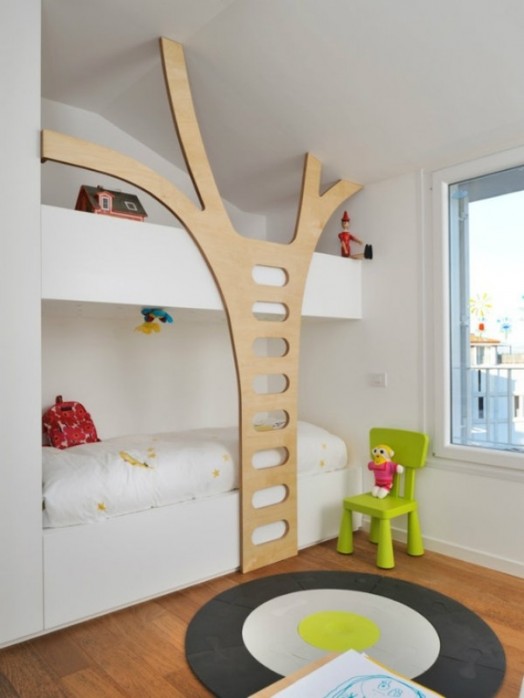 Kidsomia
Don't have the space to spread them out? Stack 'em up.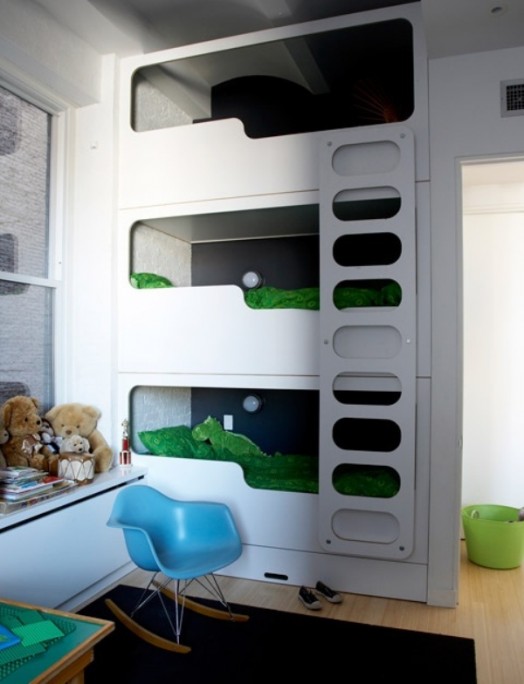 Kidsomia
Housing two kids of the opposite gender can prove difficult if you want to give them their own space and still maintain some style. This lofted solution gives each a sleeping and hangout space, while the design is complementary but still personalized.
You can achieve a similar idea by splitting the room in half and using a bookcase as a separator.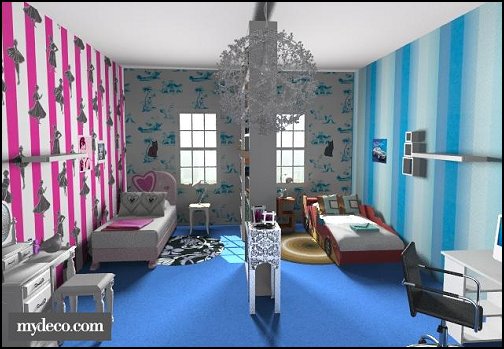 Theme Rooms
If the room's size or layout makes it difficult to avoid side-by-side beds, placing a softer barrier in between them and adding in color and texture can help make the space feel luxurious and more private.
"This shared kids room design begins with a black and white base in the form of a huge geometric rug and forest themed wallpaper," said Home Designing. "On top of the monochromatic base scheme, small bursts of glorious color cover the two kids beds and matching desk chairs. The twin beds are connected by a shared couch that provides a perfect perching place for the siblings soft toy collection."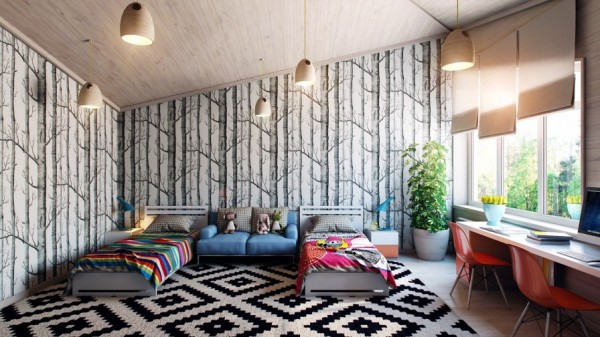 Home Designing
Want to estimate your home improvement costs before talking with a contractor? Claim your home for free with bluehammer to estimate costs, secure your home inventory and learn more about your home.
* THIS REPORT IS AN OPINION THAT MAY BE INACCURATE AND IS PROVIDED SOLELY AS AN INFORMATIONAL TOOL NOT DESIGNED TO PROVIDE DEFINITIVE ANSWERS. ALL ELEMENTS ARE OFFERED "AS IS" AND BLUEBOOK EXPRESSLY DISCLAIM ANY AND ALL WARRANTIES, REPRESENTATIONS, AND GUARANTEES OF ANY NATURE, EXPRESS, IMPLIED OR OTHERWISE, INCLUDING BUT NOT LIMITED TO ANY IMPLIED WARRANTIES OF MERCHANTABLITILY, NONINFRINGEMENT, TITLE, QUIET ENJOYMENT, ACCURACY, OR FITNESS FOR A PARTICULAR PURPOSE. IN NO EVENT SHALL BLUEBOOK (OR THEIR SUPPLIERS) BE LIABLE FOR ANY GENERAL, DIRECT, SPECIAL, INCIDENTAL, INDIRECT OR CONSEQUENTIAL DAMAGES OF ANY KIND, OR ANY DAMAGES WHATSOEVER (INCLUDING WITHOUT LIMITATION, THOSE RESULTING FROM USE OF THE PRODUCT, INCLUDING : (1) RELIANCE ON THE MATERIALS PRESENTED, (2) COSTS OF REPLACEMENT GOODS, (3) LOSS OF USE, DATA OR PROFITS, (4) DELAYS OR BUSINESS INTERRUPTIONS, (5) AND ANY THEORY OF LIABILITY, ARISING OUT OF OR IN CONNECTION WITH THE USE OR PERFORMANCE OF INFORMATION) WHETHER OR NOT BLUEBOOK HAS BEEN ADVISED OF THE POSSIBILITY OF SUCH DAMAGES.