Inspired Ways To Create A Guest Space When You Don't Have A Guest Room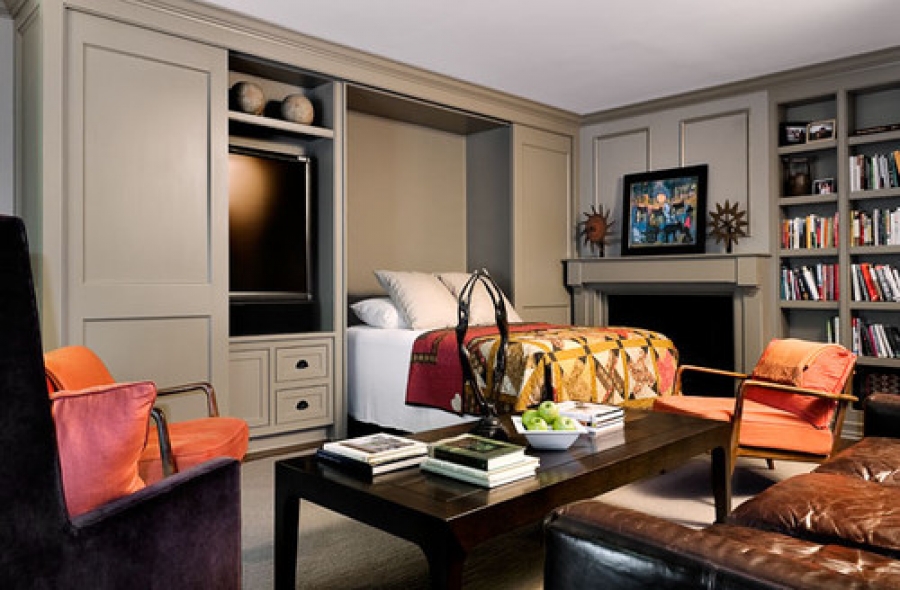 Crisp Architects
Not all of us are blessed with enough bedrooms to accommodate every member of the family plus a home office and a man cave and a theater room and a guest space. And, it's that last one that often ends up as a challenge when friends and family come to visit and you either have to break out the blow-up bed or give up your room and hunker down with the kids. You don't need to add on or buy a new home to provide a comfortable space for guests. These smart solutions will help you create a great space for guests with minimal effort.
Murphy beds
Part of the appeal of a Murphy bed is the ability to hide the sleeping surface away instead of having it be the main focus of the space, which can limit the usability of the room. A home office with a hidden surprise provides great function for those who need a room to do double duty.
"A Murphy bed neatly folds away when not in use, providing room to use a desk and store home office necessities," said Houzz. "When guests arrive, just tuck in your desk chair and pull down the bed."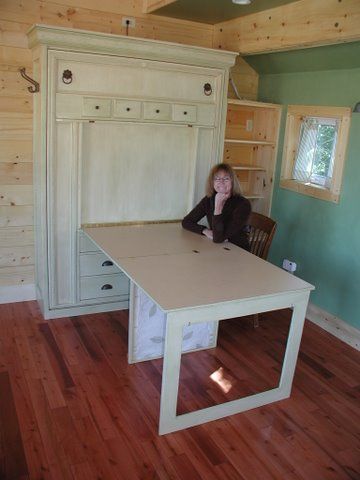 pinterest.com
You might not want to fill this small space with a guest bed, but hiding one behind the couch works just fine.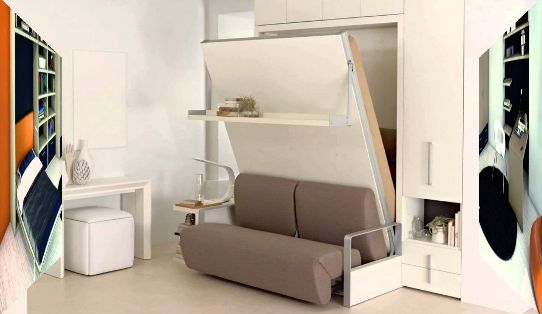 youtube.com
Even in a super modern space, a Murphy bed can be hidden creatively. Would you ever think there was a bed behind those art panels?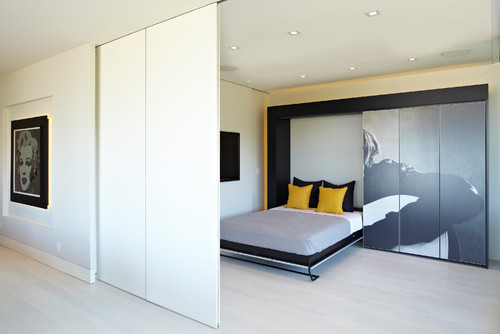 Photo by Studio Becker – Bespoke Cabinetry & Millwork – Browse bedroom photos
If you're handy, you may even be able to make one yourself.
Wall bed
A similar idea but with a little different execution, a wall bed is another great space-saving solution. You may not think you have room for a guest space…until you see one fold out from under the TV. Voila. Happy family hunkered down at your house.
resourcefurniture.com
This one looks like a couple of built-ins. Nope. It's a wall bed.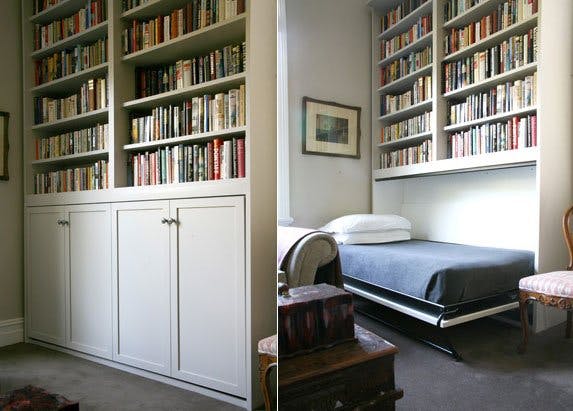 apartmenttherapy.com
Pull-out couch
The knock on pull-out couches: They're uncomfortable. And ugly. But today's versions are far from your grandfather's pull-out couch with the flimsy mattress, non-existent support, and limited design potential.
"Forget what you always knew about sofa beds, because you actually can get a good night's sleep and have a stylish sofa these days," said Apartment Therapy.
This modern version will give you the style you seek while providing comfort to your guests.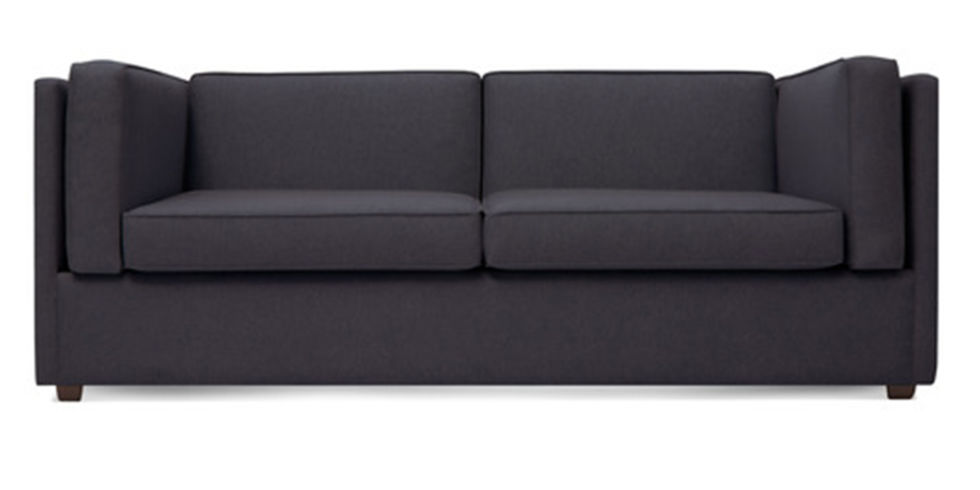 bestproducts.com
Rich, traditional leather can also serve an additional function. Even better, this loveseat is small enough to work in a smaller space while still providing ample space for snoozing.
"This top-grain leather sleeper sofa is just as luxe as it looks," said Best Products. "A raised base with roomy, springy seating makes it just right for movie nights, while the interior pull-out bed ensures that it is always at the ready for overnight use.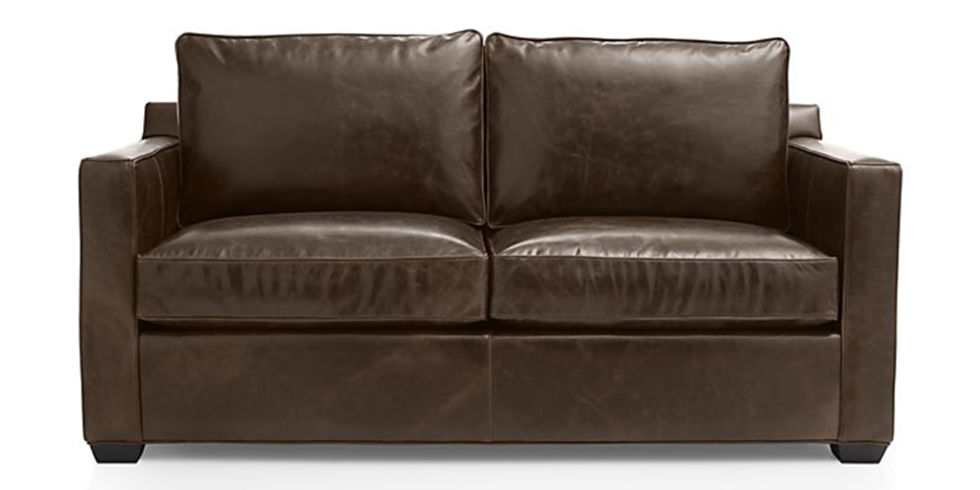 bestproducts.com
Day bed
A variation on the pull-out couch, a day bed is a chic design choice for many homes, especially because the style allows it to fit into a lot of paces more easily than another bulky sofa.
Also, choose right and you'll have a piece that looks like a cool place to lounge, but is all ready to accommodate a good night's sleep.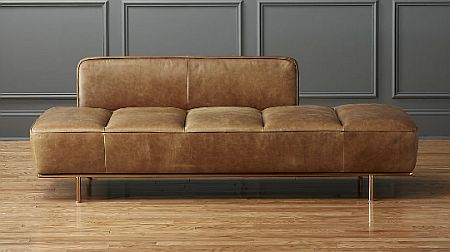 Want to double your guest space? Look for a daybed with a trundle, like this one.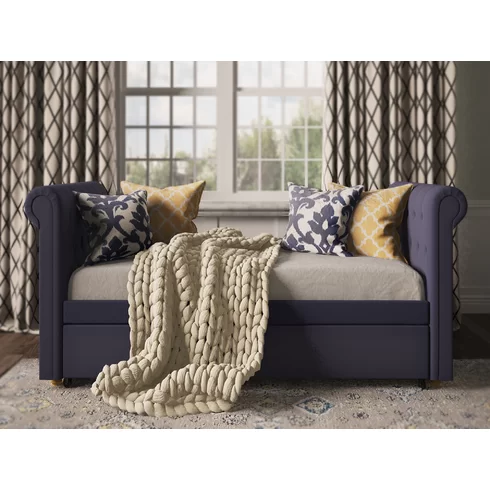 wayfair.com
Want to estimate your home improvement costs before talking with a contractor? Claim your home for free with bluehammer to estimate costs, secure your home inventory and learn more about your home.
* THIS REPORT IS AN OPINION THAT MAY BE INACCURATE AND IS PROVIDED SOLELY AS AN INFORMATIONAL TOOL NOT DESIGNED TO PROVIDE DEFINITIVE ANSWERS. ALL ELEMENTS ARE OFFERED "AS IS" AND BLUEBOOK EXPRESSLY DISCLAIM ANY AND ALL WARRANTIES, REPRESENTATIONS, AND GUARANTEES OF ANY NATURE, EXPRESS, IMPLIED OR OTHERWISE, INCLUDING BUT NOT LIMITED TO ANY IMPLIED WARRANTIES OF MERCHANTABLITILY, NONINFRINGEMENT, TITLE, QUIET ENJOYMENT, ACCURACY, OR FITNESS FOR A PARTICULAR PURPOSE. IN NO EVENT SHALL BLUEBOOK (OR THEIR SUPPLIERS) BE LIABLE FOR ANY GENERAL, DIRECT, SPECIAL, INCIDENTAL, INDIRECT OR CONSEQUENTIAL DAMAGES OF ANY KIND, OR ANY DAMAGES WHATSOEVER (INCLUDING WITHOUT LIMITATION, THOSE RESULTING FROM USE OF THE PRODUCT, INCLUDING : (1) RELIANCE ON THE MATERIALS PRESENTED, (2) COSTS OF REPLACEMENT GOODS, (3) LOSS OF USE, DATA OR PROFITS, (4) DELAYS OR BUSINESS INTERRUPTIONS, (5) AND ANY THEORY OF LIABILITY, ARISING OUT OF OR IN CONNECTION WITH THE USE OR PERFORMANCE OF INFORMATION) WHETHER OR NOT BLUEBOOK HAS BEEN ADVISED OF THE POSSIBILITY OF SUCH DAMAGES.