Which is Best: Freezer on the Side, Top, or Bottom?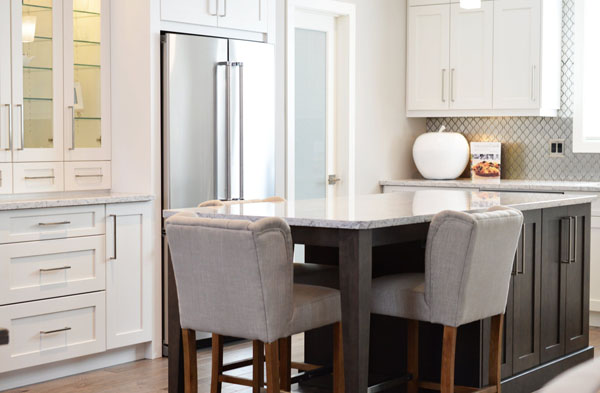 Most homes don't come with a refrigerator-freezer, so that may be the first item you purchase for delivery after buying your home. But where do you start?
Measure carefully and take the dimensions with you when you shop for a unit. With about a half-inch of clearance on either side, you'll know if it's worth it to you to do some remodeling. What you don't want is a unit that sticks out far beyond the cabinetry, or encroaches on the doorway. The refrigerator should look organic to the kitchen. Here are three types of refrigerator freezers to consider.
1. French door, bottom freezer. The elegant French door style opens with one or both doors at the same time, allowing for a broad view of what's available to cook and eat. The French-style refrigerator tends to work best for cooks who prefer lots of vegetables and fruit.
Overall, cubit foot storage capacity is slightly less than other models, but the convenience of the short door swings and wider shallower storage shelves make this style a favorite. French door refrigerators are also available in counter depth size, but they tend to be more expensive.
2. Side-by-side refrigerator/freezers. The side-by-sides are still popular but they tend to be deeper so it's easy to lose sight of items and forget they're there. But, they have some advantages over other models -- they're less expensive than the French door models, and they offer nearly equal freezer capacity to the refrigerator side. This can work for users who cook more frozen dinners than fresh foods.
Side-by-sides are also convenient for users who don't want to do a lot of bending over to find items. Many models will offer pull out shelves, but usually not all the shelves pull out, except in more expensive models. From a kitchen design standpoint, side-by-sides have less of a door swing radius than other models, and can easily fit in spaces that other refrigerators can't.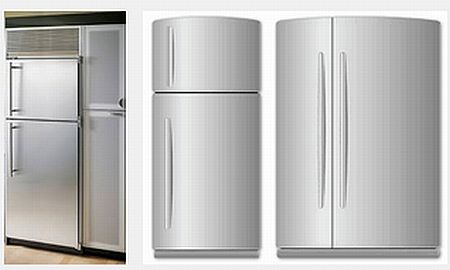 3. Freezer on top. Remember how often you used to have fill up plastic ice trays? The freezer on top style has improved with age, and a solid choice for energy and expense conscious buyers. Less expensive than other styles, these are also the most reliable, according to Consumer Search.
Features such as ice/water dispensers on the door are not usually found on freezer on top units, which is one reason they rate so high in reliability. Believe it or not, water and ice dispensers are the number one reason for refrigerator repairs. Also, there will likely be more bending to see into the refrigerator compartments.
If you're trying to fit a small space in an older home, small home or apartment, the freezer-top style also offers the most versatility in size ranges. It's a good choice for cooks who don't store much frozen food and enjoy stocking up on cold drinks.
Visit your local appliance dealer and practice opening the doors of display refrigerators. Bend down and pretend to take foods out of the bottom drawers. You'll quickly learn which configuration is right for you and your budget.
Want to estimate your home improvement costs before talking with a contractor? Claim your home for free with bluehammer to estimate costs, secure your home inventory and learn more about your home.
* THIS REPORT IS AN OPINION THAT MAY BE INACCURATE AND IS PROVIDED SOLELY AS AN INFORMATIONAL TOOL NOT DESIGNED TO PROVIDE DEFINITIVE ANSWERS. ALL ELEMENTS ARE OFFERED "AS IS" AND BLUEBOOK EXPRESSLY DISCLAIM ANY AND ALL WARRANTIES, REPRESENTATIONS, AND GUARANTEES OF ANY NATURE, EXPRESS, IMPLIED OR OTHERWISE, INCLUDING BUT NOT LIMITED TO ANY IMPLIED WARRANTIES OF MERCHANTABLITILY, NONINFRINGEMENT, TITLE, QUIET ENJOYMENT, ACCURACY, OR FITNESS FOR A PARTICULAR PURPOSE. IN NO EVENT SHALL BLUEBOOK (OR THEIR SUPPLIERS) BE LIABLE FOR ANY GENERAL, DIRECT, SPECIAL, INCIDENTAL, INDIRECT OR CONSEQUENTIAL DAMAGES OF ANY KIND, OR ANY DAMAGES WHATSOEVER (INCLUDING WITHOUT LIMITATION, THOSE RESULTING FROM USE OF THE PRODUCT, INCLUDING : (1) RELIANCE ON THE MATERIALS PRESENTED, (2) COSTS OF REPLACEMENT GOODS, (3) LOSS OF USE, DATA OR PROFITS, (4) DELAYS OR BUSINESS INTERRUPTIONS, (5) AND ANY THEORY OF LIABILITY, ARISING OUT OF OR IN CONNECTION WITH THE USE OR PERFORMANCE OF INFORMATION) WHETHER OR NOT BLUEBOOK HAS BEEN ADVISED OF THE POSSIBILITY OF SUCH DAMAGES.