8 Laundry Rooms That'll Make You Want To Fluff And Fold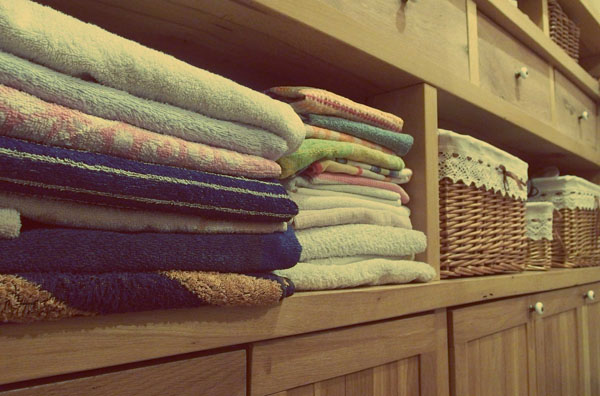 Let's face it. Laundry is no fun. In fact, it's often counted among our most hated chores. But since running around in stinky, soiled clothes is not an option for most of us, it's gotta get done.
Which is why we're always thrilled to see rooms that make it feel like more of a yay! and less of a yuck!
"A laundry room doesn't have to be a dull and boring room where you just toss your dirty socks and t-shirts. The laundry room is a place where you can really show off your creativity," said Kimberly Grigg of Knotting Hill Interiors and Get Your Southern On.
Indeed, it can even be a luxurious space, said Advice on the House.
When decorating a home, there are endless possibilities to make each room a chic oasis. The laundry room can be upgraded to exude personality and design flair so it becomes a more enjoyable place to spend time in," they said. "From the color palette or patterns on the walls to the floors under foot and everything in between, decorating your laundry room with things that inspire productivity and tranquility can transform your tired, dull space into a room that feels luxurious, welcoming and relaxing."
In these 8 rooms, we might even be inspired to scrub out a few stains, fold everything real pretty, and actually see the bottom of the laundry basket.
1. The ample countertop and storage space, the glass-front cabinets, the glam lights…this laundry room has it all. But what really gets us is the double washer and dryer. Twice the capacity to get and keep everything clean? Oh. Yes.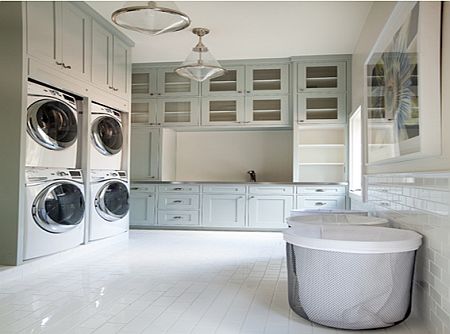 décor pad
2. Ummm, you had us at TV.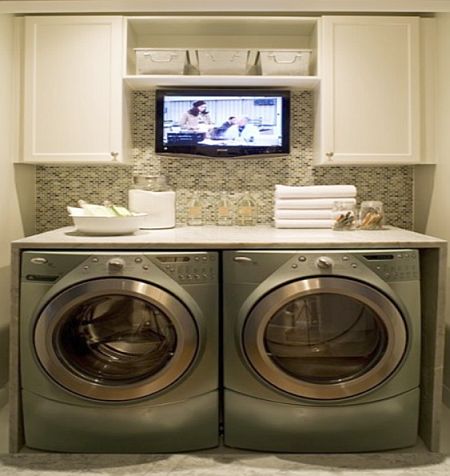 Oplab Decor
3. Glamorous and utilitarian? We'll take it. Something about the all-white palette and reflective surfaces make this space feel so tranquil that we wouldn't mind doing a load–or 10.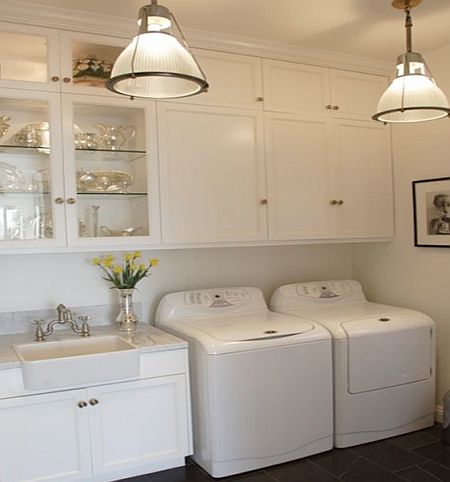 Get Your Southern On
4. Then again, who says you can't have a little fun with color and pattern?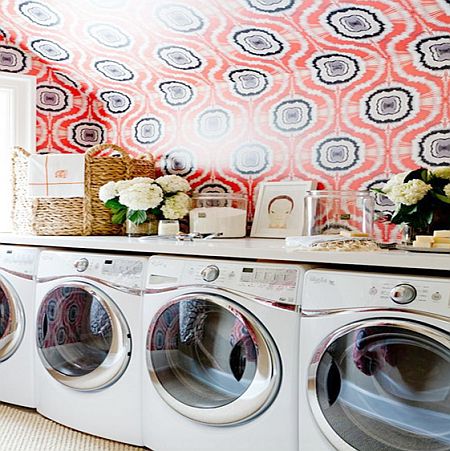 My Design Chic
5. Is it weird that all that storage is making us a little flush? We love that there is a space for everything in this traditional space, including a pullout for dog food and built in bowls for puppy's food and drink.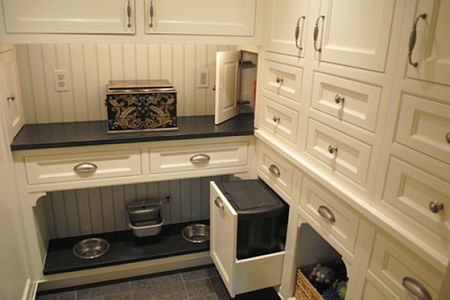 Inside Story Design
6. Lacking space for a "real" laundry room but still want to create something with form and function? Hide it in a hallway.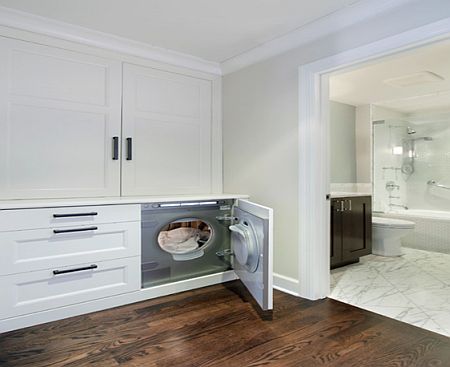 Georgiana Design
7. Because why should kitchens and bathrooms have all the fun. Adding a little luxury to your laundry room makes it a place you don't mind hanging out for a while.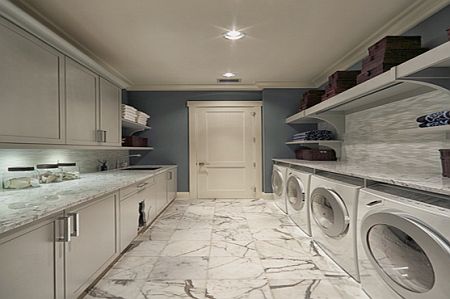 Inside Story Design
8. Look. At. All. That. Counter. Space.
My Design Chic
Want to estimate your home improvement costs before talking with a contractor? Claim your home for free with bluehammer to estimate costs, secure your home inventory and learn more about your home.
* THIS REPORT IS AN OPINION THAT MAY BE INACCURATE AND IS PROVIDED SOLELY AS AN INFORMATIONAL TOOL NOT DESIGNED TO PROVIDE DEFINITIVE ANSWERS. ALL ELEMENTS ARE OFFERED "AS IS" AND BLUEBOOK EXPRESSLY DISCLAIM ANY AND ALL WARRANTIES, REPRESENTATIONS, AND GUARANTEES OF ANY NATURE, EXPRESS, IMPLIED OR OTHERWISE, INCLUDING BUT NOT LIMITED TO ANY IMPLIED WARRANTIES OF MERCHANTABLITILY, NONINFRINGEMENT, TITLE, QUIET ENJOYMENT, ACCURACY, OR FITNESS FOR A PARTICULAR PURPOSE. IN NO EVENT SHALL BLUEBOOK (OR THEIR SUPPLIERS) BE LIABLE FOR ANY GENERAL, DIRECT, SPECIAL, INCIDENTAL, INDIRECT OR CONSEQUENTIAL DAMAGES OF ANY KIND, OR ANY DAMAGES WHATSOEVER (INCLUDING WITHOUT LIMITATION, THOSE RESULTING FROM USE OF THE PRODUCT, INCLUDING : (1) RELIANCE ON THE MATERIALS PRESENTED, (2) COSTS OF REPLACEMENT GOODS, (3) LOSS OF USE, DATA OR PROFITS, (4) DELAYS OR BUSINESS INTERRUPTIONS, (5) AND ANY THEORY OF LIABILITY, ARISING OUT OF OR IN CONNECTION WITH THE USE OR PERFORMANCE OF INFORMATION) WHETHER OR NOT BLUEBOOK HAS BEEN ADVISED OF THE POSSIBILITY OF SUCH DAMAGES.