Condo Renovations: Making The Most Of Your Space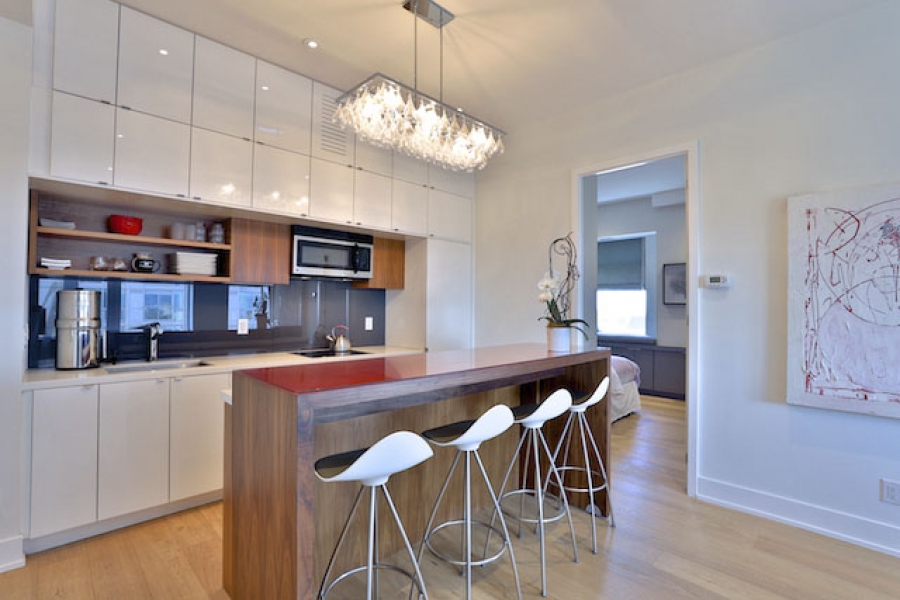 In real estate, nothing ever stays the same. In Toronto, the types of condo buyers are constantly changing, says real estate agent Cynthia Goodchild of Royal LePage Real Estate Services, Johnston and Daniel Division.
Many buyers are now families or young couples with a baby on the way. They don't want to rent but can't afford to buy a house. Or some, regardless of age, don't have the time or inclination to maintain a home.
Condo suites are smaller than they used to be, so it pays to renovate to make the most of every inch and to make the space functional for everyday living and entertaining.
Designer Sabrina Bitton, an expert in all things space saving and clever, recently transformed her 825-square-foot suite into a showpiece of good, functional, flexible and space-efficient design. Her suite offers the clean-lined and less-is-more sensibilities today's buyers want.
She embraces European design, with a dash of Frank Lloyd Wright (bringing the outdoors in while ensuring no space is wasted, she says.)
Her original two-bedroom suite had large windows in the living room and master bedroom, the rooms side by side at the end of the suite. Bitton removed the master bedroom wall and incorporated the square footage and windows into the living space.
She sealed up the doors to the walk-in closet and ensuite bathroom and lined the walls with floor-to-ceiling custom millwork. Instead of extending the built-ins to the end of the living room wall, she added open solid walnut shelving to provide an airy feeling and to offer a place to display treasured items.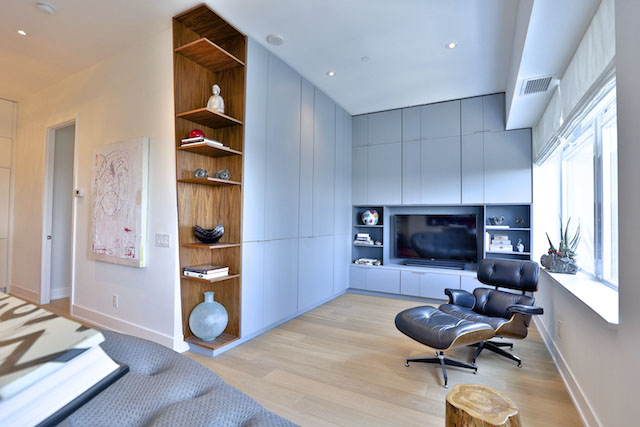 Walnut is used for several features throughout the suite, bringing a touch of nature and creating a sense of flow between rooms.
The kitchen includes walnut shelving and a walnut island. To create maximum storage space, Bitton took advantage of the nine-foot-high ceilings and extended the built-ins to the ceiling. The high space is ideal for storing large boxes of out-of-season clothing and seasonal items that don't need to be accessed on a regular basis.
Vents for heating and cooling are hidden behind cupboard doors and kick plates, with slits to keep the air circulating.
Storage space is always a challenge in condos, so finding creative ways of adding more makes the unit more functional. "I have so much storage space that some cupboards are actually empty," she says.
A clever "Bitton trick" is a bar-height island on wheels that fits over the existing kitchen island so it doesn't take up additional floor space.
When entertaining (be it for a sit-down dinner for eight, a buffet or a large cocktail party), the bar-height island can be wheeled out to provide a separate table. Or it can be used as buffet space, a place to enjoy cocktails or additional work space.
Downsizers who aren't ready to give up their sit-down eating space find this a particularly welcome idea, Bitton says.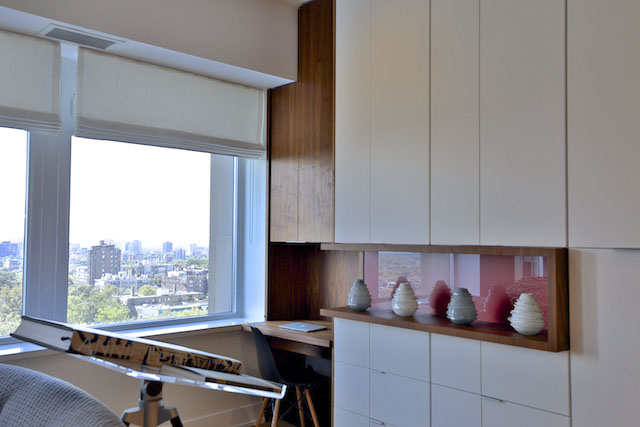 She chose bar stools with lower backs so when they're tucked under the bar, they don't obstruct the view from the kitchen. Bitton added a clear rectangular blown glass chandelier over the island to add drama without distracting from the view.
Seamless, clean-lined built-ins on another wall in the living/dining space include a fold-up desk, and a surprise. Instead of hard-to-reach cupboards at ceiling height, Bitton added pull-down rods so hanging clothes are easily accessible.
When renovating, figure out what you want, how to achieve and what you want to invest your money on. Bitton splurged on a comfortable sofa.
"Comfort is important. Also, since it's a linear space, the curved couch adds a feeling of movement. You could also add an additional sleeping area by using a sofa bed."
In the second bedroom, which is beside the original master bedroom, a door was added to provide access to the walk-in closet and ensuite bathroom. More custom built-ins were added in the closet.
In the bedroom, the original closet doors were removed and the closet space was lined with walnut to create a headboard/nook for her bed. The window seat was extended from 18 to 24 inches to create a cosy sitting area. Custom built-ins were installed below the window seat and extended along the wall. An unused alcove space was filled with shelves and glass doors to create a fun display space for Bitton's fancy shoes.
Light-coloured floors are used throughout, chosen over dark, which shows dust and visually closes in a space. Paint and window treatments are different tones of the same creamy neutral colour family. Doors are painted light grey to complete the Zen ambiance.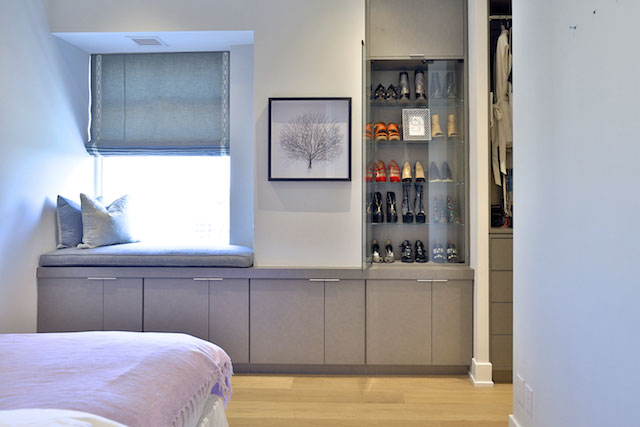 Before buying a new condo, Goodchild says it's important to speak to the builder to find out what changes can be made. You may not want the kitchen that's there or would prefer to omit a wall, but the builder may not be able to accommodate your needs.
Few developers will allow preconstruction changes. In that case, choose the least expensive finishes for features you plan to remove, and then renovate with an eye to creating functional and multi-functional space, says Bitton, of Sabrina Bitton Interior Design. "It's all about creating smart condos."
Times have changed from 20 years ago, when condos were purchased primarily by retirees, Goodchild says. Now people in their 50s are buying too because they want less upkeep, more freedom and the ability to do more of what they want, including travel.
"Retirees still make up a large percentage of purchasers, but the under 35-year-olds find condo ownership appealing because they want to be downtown and be close to work. They want to have the ability to work, live and play in the same neighbourhood," Goodchild says. "Then they have children and sometimes stay."
Whoever the buyer, making the most of the space is key, says Bitton, who along with in-person service, offers Skype design consultation. A portion of her fee goes to charity.
Want to estimate your home improvement costs before talking with a contractor? Claim your home for free with bluehammer to estimate costs, secure your home inventory and learn more about your home.
* THIS REPORT IS AN OPINION THAT MAY BE INACCURATE AND IS PROVIDED SOLELY AS AN INFORMATIONAL TOOL NOT DESIGNED TO PROVIDE DEFINITIVE ANSWERS. ALL ELEMENTS ARE OFFERED "AS IS" AND BLUEBOOK EXPRESSLY DISCLAIM ANY AND ALL WARRANTIES, REPRESENTATIONS, AND GUARANTEES OF ANY NATURE, EXPRESS, IMPLIED OR OTHERWISE, INCLUDING BUT NOT LIMITED TO ANY IMPLIED WARRANTIES OF MERCHANTABLITILY, NONINFRINGEMENT, TITLE, QUIET ENJOYMENT, ACCURACY, OR FITNESS FOR A PARTICULAR PURPOSE. IN NO EVENT SHALL BLUEBOOK (OR THEIR SUPPLIERS) BE LIABLE FOR ANY GENERAL, DIRECT, SPECIAL, INCIDENTAL, INDIRECT OR CONSEQUENTIAL DAMAGES OF ANY KIND, OR ANY DAMAGES WHATSOEVER (INCLUDING WITHOUT LIMITATION, THOSE RESULTING FROM USE OF THE PRODUCT, INCLUDING : (1) RELIANCE ON THE MATERIALS PRESENTED, (2) COSTS OF REPLACEMENT GOODS, (3) LOSS OF USE, DATA OR PROFITS, (4) DELAYS OR BUSINESS INTERRUPTIONS, (5) AND ANY THEORY OF LIABILITY, ARISING OUT OF OR IN CONNECTION WITH THE USE OR PERFORMANCE OF INFORMATION) WHETHER OR NOT BLUEBOOK HAS BEEN ADVISED OF THE POSSIBILITY OF SUCH DAMAGES.