8 Paint Colors for a Standout Front Door?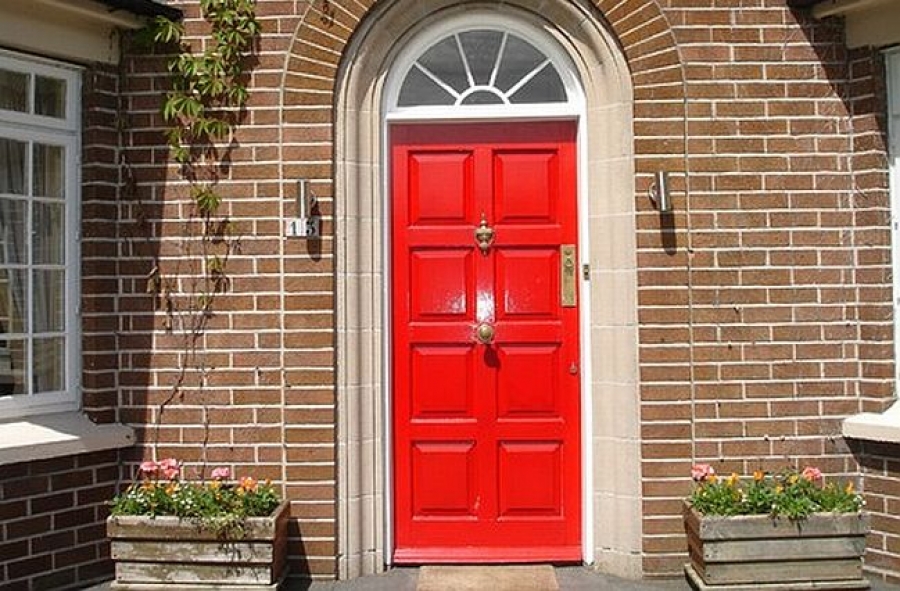 Photo by Locate Estate Agents
Extend a standout greeting with a memorable hue at your home's entry
Decisions, decisions. For your front door, do you go for classic black or shocking pink, calming blue or stately green? For inspiration on how to make your front door the star of the street, check out the choices below.
Think pink. Get the neighbors talking with an unusual (but lovely) shade of pink. Not shocking but not shy and retiring either, this salmon shade works particularly well with the surrounding painted gray woodwork.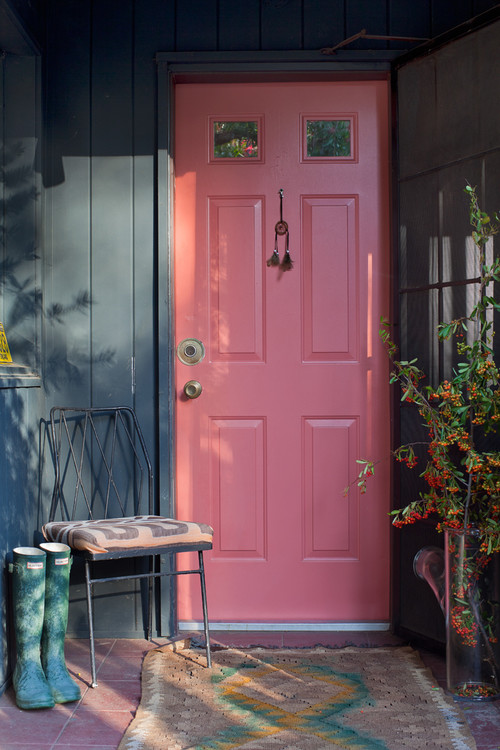 Photo by – Look for entryway pictures
Make a match. A more mellow hello is offered by this pale door, which perfectly matches the gentle tone of the stone walls. And it proves that you don't need to shout to get noticed. Mini olive trees in terra-cotta pots on either side of the door break up the color block and add to the rustic feel.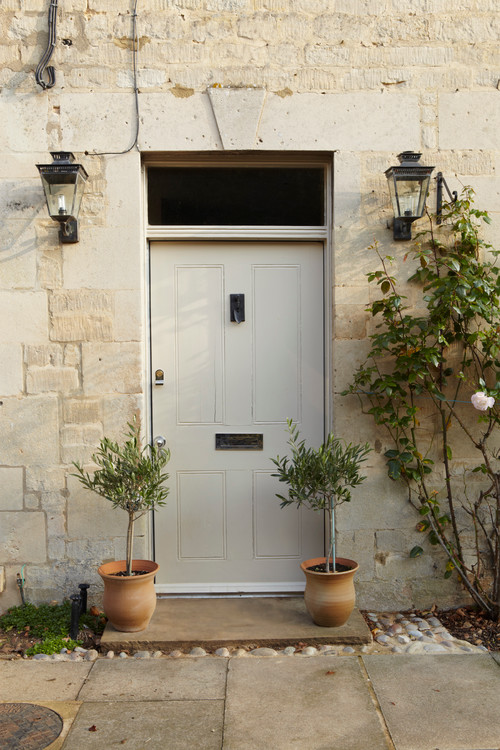 Photo by Farrow & Ball – Look for entryway pictures
Go back to black. It's hardly the wildest front-door option, but black remains incredibly popular for a reason. It looks super smart, it never goes out of style, and it suits all types of houses. But to make sure it's chic instead of bleak, add some potted topiary, chrome or brass elements, and make sure that the rest of the paintwork is crisp and bright. Job done.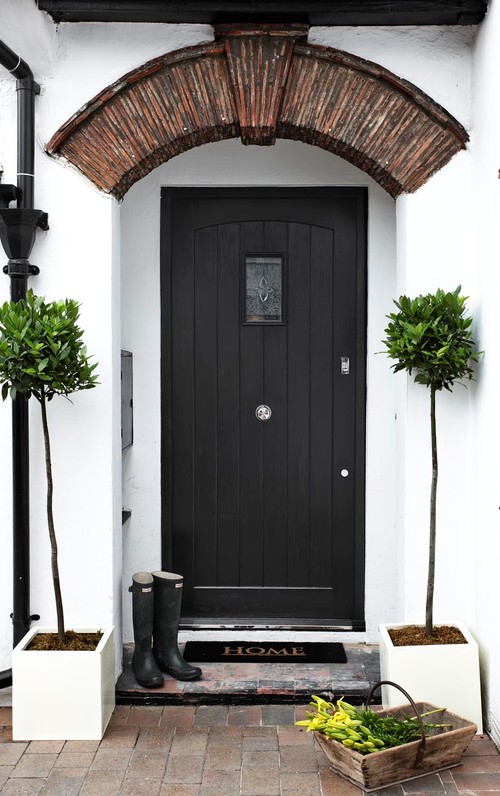 Photo by Boscolo Interior Design – More entryway ideas
Join the navy. A deep indigo is a bright alternative to black or gray, and it's different enough to turn heads. The owners of this house went for a matte finish to give their period cottage a modern edge.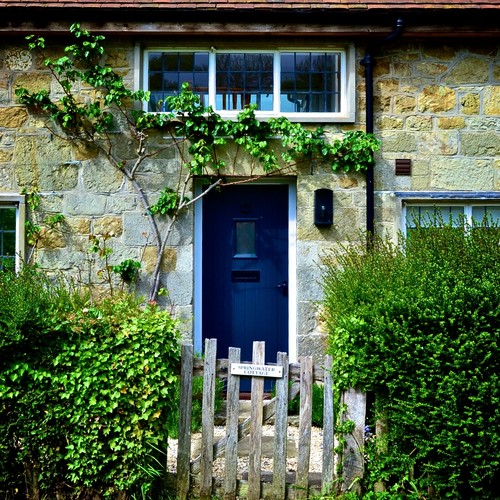 Photo by gda architecture – Discover entryway design ideas
Transform with yellow. There's no number on the door, and why would there need to be? The owner simply has to tell everyone, "You can't miss it — it's the house with the yellow door." The painted white brickwork and gray-framed windows add to the standout modern look.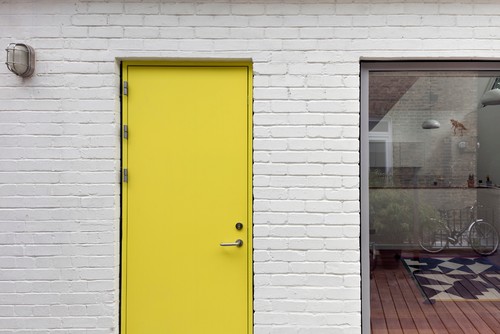 Photo by ARCHEA Ltd – Browse entryway ideas
Go green. To ensure there's no color clash with the greenery in your front yard, you could opt for a soft woodland green like this one for the door.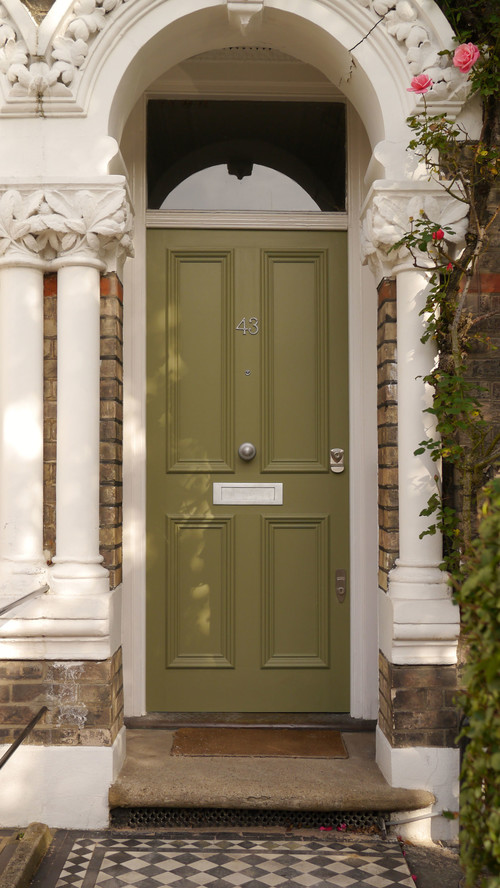 Photo by The London Door Company – Search home design pictures
Rock the red look. Matching the style of the front door to the style of the house is important. A bright red door might seem a bit out-there for a traditional home, but not if it has a classic paneled design and traditional brassware that tones down the shade.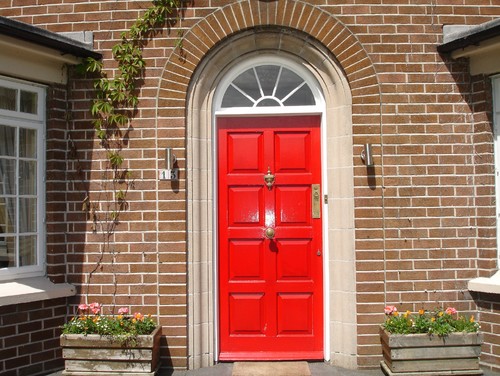 Photo by Locate Estate Agents – More entryway photos
Be bold. In the "notice me" department, a vibrant shade of orange is hard to beat. And if you ever get tired of it, a whole new look is just a paint can away.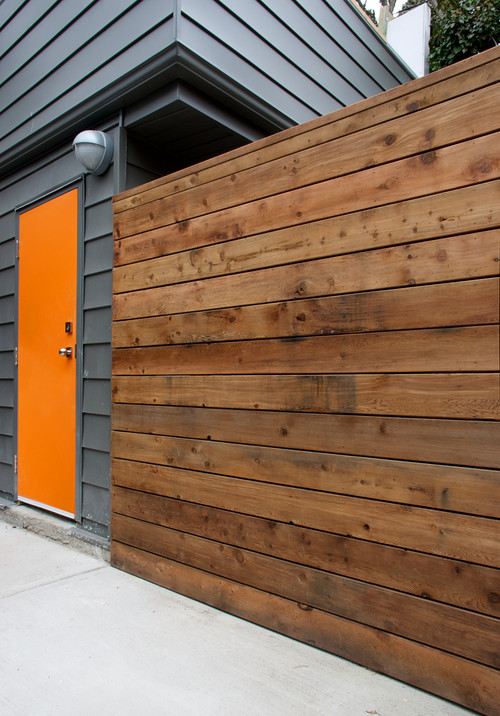 Photo by Roundabout Studio Inc. – Search exterior home pictures
Meet halfway. Want a color that's cheerful but you can't see yourself embracing an ultra-bright shade? For a softer approach, this duck-egg blue could be just right - and it works just as well against a white exterior as it does with this red brick.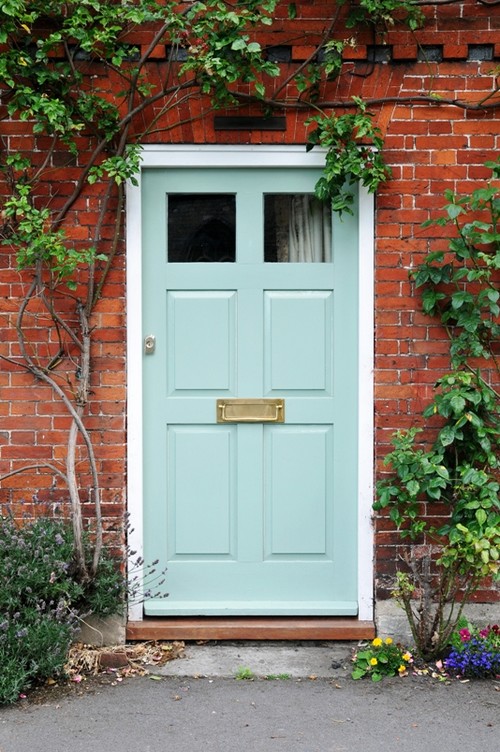 Photo by Designerpaint – Search entryway pictures
Spread the love. If you love the color you've chosen for your front door, why not use it on the window frames too? Of course, if you've gone for orange (see above) it's probably best to use it just on the door.
The bright blue here, however, suits the coastal feel of the house and works well with the gray siding and white wall.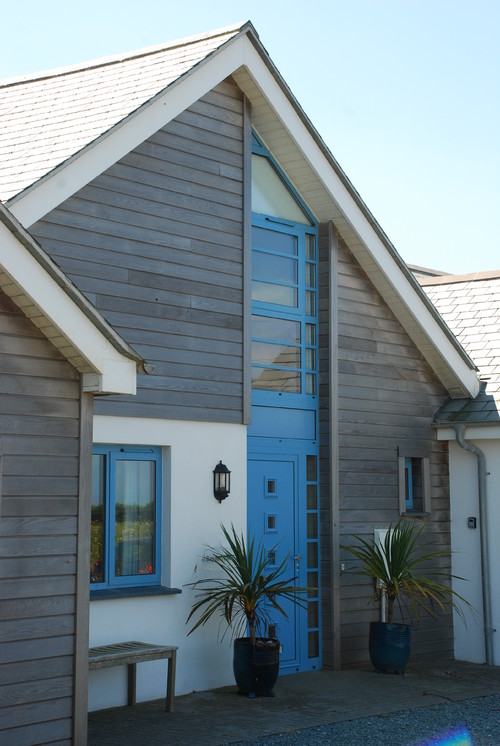 Photo by The Bazeley Partnership – Look for exterior home pictures
Want to estimate your home improvement costs before talking with a contractor? Claim your home for free with bluehammer to estimate costs, secure your home inventory and learn more about your home.
* THIS REPORT IS AN OPINION THAT MAY BE INACCURATE AND IS PROVIDED SOLELY AS AN INFORMATIONAL TOOL NOT DESIGNED TO PROVIDE DEFINITIVE ANSWERS. ALL ELEMENTS ARE OFFERED "AS IS" AND BLUEBOOK EXPRESSLY DISCLAIM ANY AND ALL WARRANTIES, REPRESENTATIONS, AND GUARANTEES OF ANY NATURE, EXPRESS, IMPLIED OR OTHERWISE, INCLUDING BUT NOT LIMITED TO ANY IMPLIED WARRANTIES OF MERCHANTABLITILY, NONINFRINGEMENT, TITLE, QUIET ENJOYMENT, ACCURACY, OR FITNESS FOR A PARTICULAR PURPOSE. IN NO EVENT SHALL BLUEBOOK (OR THEIR SUPPLIERS) BE LIABLE FOR ANY GENERAL, DIRECT, SPECIAL, INCIDENTAL, INDIRECT OR CONSEQUENTIAL DAMAGES OF ANY KIND, OR ANY DAMAGES WHATSOEVER (INCLUDING WITHOUT LIMITATION, THOSE RESULTING FROM USE OF THE PRODUCT, INCLUDING : (1) RELIANCE ON THE MATERIALS PRESENTED, (2) COSTS OF REPLACEMENT GOODS, (3) LOSS OF USE, DATA OR PROFITS, (4) DELAYS OR BUSINESS INTERRUPTIONS, (5) AND ANY THEORY OF LIABILITY, ARISING OUT OF OR IN CONNECTION WITH THE USE OR PERFORMANCE OF INFORMATION) WHETHER OR NOT BLUEBOOK HAS BEEN ADVISED OF THE POSSIBILITY OF SUCH DAMAGES.