Choosing Window Treatments: Pros and Cons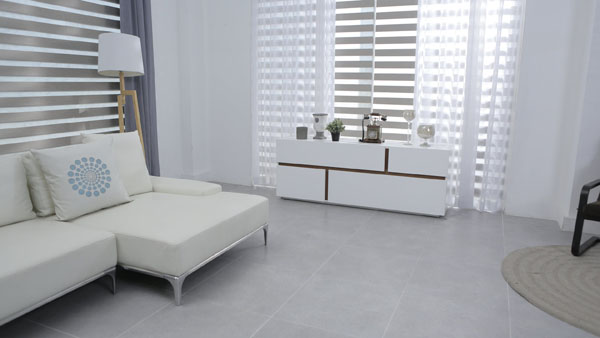 Deciding on the right size, color, fabric and pillow configuration for your couch took three weeks. You still haven't decided on the paint color for the bedroom, despite having seven different shades of blue in swatches up on the wall. It seems like every design decision you've made in your home was critical, but the one that will help pull it all together hasn't garnered a moment of thought.
"Of all the design decisions homeowners make when decorating a home - paint color, furniture, fabrics, rugs, lighting, accessories - window treatments often get overlooked or receive inadequate attention," said Karen Egly-Thompson on Houzz.
Perhaps it's because choosing the right window treatment is just too overwhelming. These pros and cons will help.
Wood Blinds
These natural wood slats are either painted or stained and are a popular choice for today's homeowners.
Pros:
They come in a variety of stains and paint grades "from light pine to bamboo to richly stained ebony," so they complement "many decorative styles," said Blinds Galore. Also, "their simple construction makes them easy to operate" and different slat sizes mean you can control how much light you want coming through.
Blinds Mart
Cons:
Wood blinds can be pricy depending on the material, and can sometimes feel a little uninspired without being layered with another window treatment like drapes.
Faux wood blinds
Faux wood blinds are generally made of vinyl or a composite of vinyl and wood.
Pros:
These blinds offer a similar look and function to real wood, often at a lower cost. They're also super low maintenance, making them a favorite of designers and homeowners, and are great in rooms like kitchens and bathrooms where a high moisture content might warp real wood.
Cons:
They can look cheap depending on the material, and bargain-basement options have been known to have function issues with the cording, so be sure to check the quality before purchasing.
Panel Track Blinds
Panel track blinds are a modern, attractive alternative to vertical blinds and a great choice for sliding glass doors.
Pros:
Panel track blinds allow for light control and privacy without having to resort to vertical blinds.
Cons:
Not as sturdy as some other window treatments.
Plantation Shutters
Shutters are a homeowner favorite, offering an upscale look that can elevate the elegance of a space. They are also among the most expensive window treatments - but well worth it to fans of this classic option.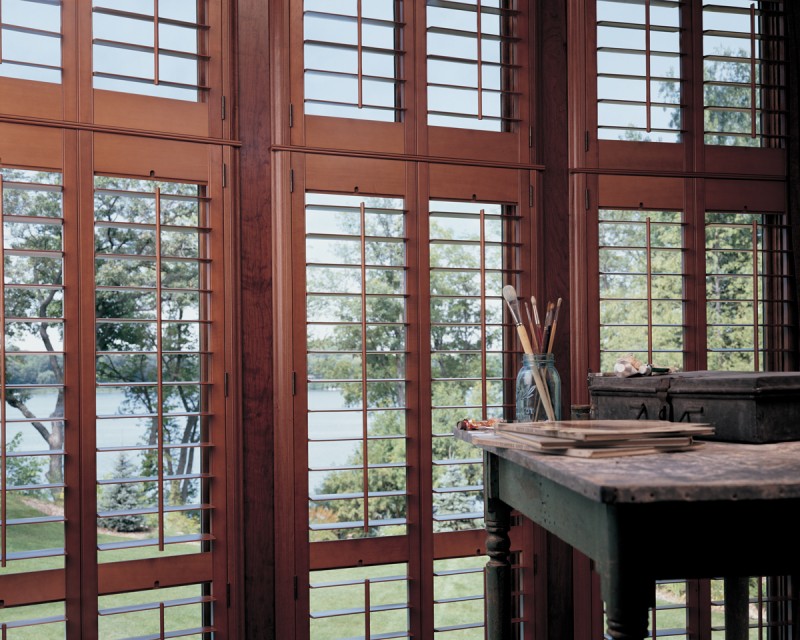 AAA Blinds
"Shutters are dynamic as an architectural statement and are not only functional and beautiful window treatments, but they can also add value to your home," said Blinds Galore. "Shutters help to control incoming light, offer privacy when closed and help to insulate against heat, cold, and sound. Shutters add timeless, traditional sophistication to any room."
Pros:
Shutters offer great light control and insulation and are among a handful of items that can increase the value of a home - a homebuyer might not remember the color of your walls but she will remember if you have shutters.
Cons:
The expense is often beyond that of other window treatments.
Drapes
Hanging drapes can frame windows and bring life to a space - coordinating with furnishings or providing contrast. But color and pattern are just two of the important factors when choosing drapes. Consideration should be given to climate - are you in a warm climate where you need protection from the sun or a cold climate which calls for insulated drapes? Do you have a lot of morning or late afternoon sun, and how much do you want filtering into the room? Do you want a quality fabric that will last for years, or are you the type who wants to update on a regular basis?
"Set aside style considerations for a moment; function comes first and will limit your curtain choices, in a good way," said Real Simple. "If you want treatments that provide privacy or total darkness, you need lined curtains. If you're OK with light filtering through or if your curtains are simply decorative, unlined will work."
Pros:
Drapes are one of the few window coverings that almost anyone can DIY depending on how and where they're being hung. They're also easy to change out seasonally or on a whim and are among the most affordable options for those on a budget.
Cons:
The sheer variety of drapes (pun intended) can also make it challenging to choose the right one, and drapes can sometimes feel not as finished as other options depending on the product chosen and the installation. Layering window coverings and using the drapes for framing instead of function can help.
Pinterest
Shades
A variety of shades provide coverage for windows in styles ranging from contemporary to classic to traditional. Options include:
Cellular or honeycomb shades
Roller shades
Roman shades
Motorized shades
When installing shades, you'll also want to consider corded or cordless versions, whether to mount them inside the window or out, and have them open from the top or bottom.
Harbor View Blinds
Pros:
Offered in a variety of styles, fabrics, and price points, shades can provide everything from temporary, inexpensive coverage for those who have not yet found a permanent window covering solution to custom solutions that bring a sense of grandeur to a space. Motorized shades also provide smart solutions for windows that are out of reach.
Cons:
Shades on the low end of the pricing spectrum can feel cheap with flimsy materials. Some shades can also have an institutional feel.
Want to estimate your home improvement costs before talking with a contractor? Claim your home for free with bluehammer to estimate costs, secure your home inventory and learn more about your home.
* THIS REPORT IS AN OPINION THAT MAY BE INACCURATE AND IS PROVIDED SOLELY AS AN INFORMATIONAL TOOL NOT DESIGNED TO PROVIDE DEFINITIVE ANSWERS. ALL ELEMENTS ARE OFFERED "AS IS" AND BLUEBOOK EXPRESSLY DISCLAIM ANY AND ALL WARRANTIES, REPRESENTATIONS, AND GUARANTEES OF ANY NATURE, EXPRESS, IMPLIED OR OTHERWISE, INCLUDING BUT NOT LIMITED TO ANY IMPLIED WARRANTIES OF MERCHANTABLITILY, NONINFRINGEMENT, TITLE, QUIET ENJOYMENT, ACCURACY, OR FITNESS FOR A PARTICULAR PURPOSE. IN NO EVENT SHALL BLUEBOOK (OR THEIR SUPPLIERS) BE LIABLE FOR ANY GENERAL, DIRECT, SPECIAL, INCIDENTAL, INDIRECT OR CONSEQUENTIAL DAMAGES OF ANY KIND, OR ANY DAMAGES WHATSOEVER (INCLUDING WITHOUT LIMITATION, THOSE RESULTING FROM USE OF THE PRODUCT, INCLUDING : (1) RELIANCE ON THE MATERIALS PRESENTED, (2) COSTS OF REPLACEMENT GOODS, (3) LOSS OF USE, DATA OR PROFITS, (4) DELAYS OR BUSINESS INTERRUPTIONS, (5) AND ANY THEORY OF LIABILITY, ARISING OUT OF OR IN CONNECTION WITH THE USE OR PERFORMANCE OF INFORMATION) WHETHER OR NOT BLUEBOOK HAS BEEN ADVISED OF THE POSSIBILITY OF SUCH DAMAGES.