Essential Garage Equipment for Car Enthusiasts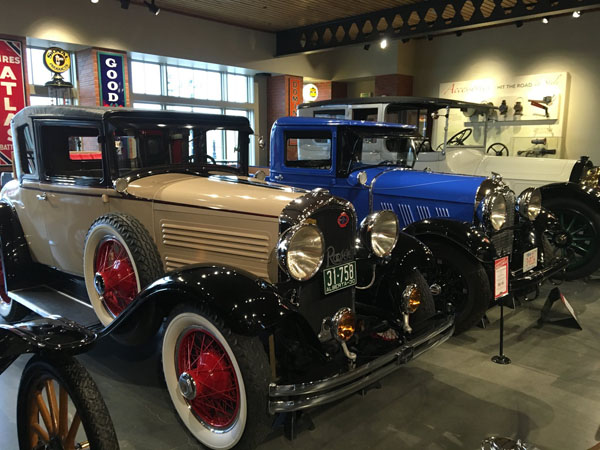 What makes a car enthusiast? The vehicle you own says a lot about your passion for cars. About 12 percent of Americans are loyal to a particular vehicle brand, and vehicle brand loyal customers are four times more likely than other consumers to describe themselves as car enthusiasts, according to Scarborough. What you have in your garage also makes a statement about your love of cars. Here are some essential items every car enthusiast should have.
Garage Space
First, you need a garage with adequate space. A small garage might provide enough space to park your car, but if you want room to work, you may prefer something bigger. Chicago architect Allan J. Grant recommends that a single-car garage should be a minimum of 10 feet wide, and a two-car garage should be at least 20 feet wide, with 24 feet being optimal. For a car enthusiast, a two-car garage provides better working space.
Workbench
A good workbench is the first piece of essential equipment, says Popular Mechanics. You can build your own workbench inexpensively or purchase one from the store.
There are several ways to design your own workbench. The simplest is to use a pair of sawhorses to support a solid-core door or a plank of medium-density fiberboard. You can also find many designs online for building workbenches out of simple materials such as 2 x 4's and 4 x 4's. Bob Villa offers five different DIY designs for workbenches you can build in a weekend.
To speed things up, kits for building your own workbench are also available from suppliers such as the Simpson Strong-Tie Company and Hopkins Manufacturing Corporation with its 2x4 Basics product line. If you'd prefer to buy a pre-made workbench, modular workbenches from manufacturers such as Craftsman and Gladiator provide the flexibility to customize your workspace.
Vises
To use your workbench, you will want a good bench vise. A bench vise holds your projects in place, provides extra force and stabilizes items while glue dries. Avoid cheap vises, and invest in a quality vise from a manufacturer such as Craftsman.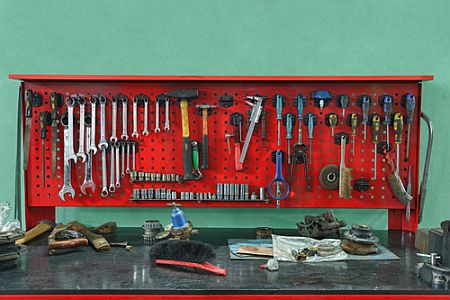 Lighting
Adequate lighting is essential for working on your car. The easiest way to improve the quality of your overhead lighting is by installing ceiling-mounted fluorescent light fixtures. Four-foot instant-on T8 bulb fixtures with wide reflectors or diffusers are a good start.
However, to get lighting in hard-to-reach places, you'll want more than overhead lighting. Mercedes mechanic Kent Bergsma recommends avoiding clip lights and halogen-type shop lights and instead using stage and movie lighting equipment, such as an LED video lights with barn doors.
Storage
The more tools you own, the more storage space you need. For general storage, a pegboard is the most affordable way to store individual tools and other pieces of equipment, and a tool chest provides organized storage.
To store your off-season tires, it puts less stress on tires to store them upright than to stack them. You can hang tires on hooks if they're mounted on the rims, but never hang unmounted tires because this will distort and damage them.
Ramps, Jack Stands, Lifts and Hoists
It's also essential to have equipment to elevate your car. An auto ramp set is great for working under your car. Jack stands with safety pins will come in handy to change tires. If you can afford it, a vehicle lift will really make your garage look like a car shop. An engine hoist with a stand is also useful.
Want to estimate your home improvement costs before talking with a contractor? Claim your home for free with bluehammer to estimate costs, secure your home inventory and learn more about your home.
* THIS REPORT IS AN OPINION THAT MAY BE INACCURATE AND IS PROVIDED SOLELY AS AN INFORMATIONAL TOOL NOT DESIGNED TO PROVIDE DEFINITIVE ANSWERS. ALL ELEMENTS ARE OFFERED "AS IS" AND BLUEBOOK EXPRESSLY DISCLAIM ANY AND ALL WARRANTIES, REPRESENTATIONS, AND GUARANTEES OF ANY NATURE, EXPRESS, IMPLIED OR OTHERWISE, INCLUDING BUT NOT LIMITED TO ANY IMPLIED WARRANTIES OF MERCHANTABLITILY, NONINFRINGEMENT, TITLE, QUIET ENJOYMENT, ACCURACY, OR FITNESS FOR A PARTICULAR PURPOSE. IN NO EVENT SHALL BLUEBOOK (OR THEIR SUPPLIERS) BE LIABLE FOR ANY GENERAL, DIRECT, SPECIAL, INCIDENTAL, INDIRECT OR CONSEQUENTIAL DAMAGES OF ANY KIND, OR ANY DAMAGES WHATSOEVER (INCLUDING WITHOUT LIMITATION, THOSE RESULTING FROM USE OF THE PRODUCT, INCLUDING : (1) RELIANCE ON THE MATERIALS PRESENTED, (2) COSTS OF REPLACEMENT GOODS, (3) LOSS OF USE, DATA OR PROFITS, (4) DELAYS OR BUSINESS INTERRUPTIONS, (5) AND ANY THEORY OF LIABILITY, ARISING OUT OF OR IN CONNECTION WITH THE USE OR PERFORMANCE OF INFORMATION) WHETHER OR NOT BLUEBOOK HAS BEEN ADVISED OF THE POSSIBILITY OF SUCH DAMAGES.