Stylish Bath Storage Solutions: Ways to Complement Your Bathroom Vanity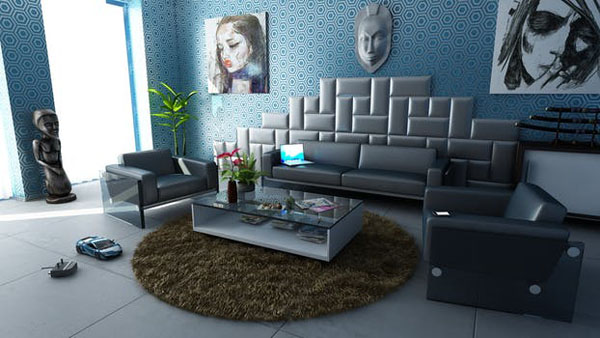 Finding adequate storage is a particularly challenging problem in bathrooms, and not just because they are usually the smallest rooms in the house. Bathrooms have increasingly become the place to store a large and diverse number of items, including bath towels, beauty supplies, toiletries, hair care products, medications, soaps, shampoo, and assorted cleansers. And if the primary inhabitants of the bathroom happen to be teenagers, then the demand for storage space increases exponentially.
Fortunately there's a very easy and space-efficient way to gain storage in a bathroom: install a bath-vanity cabinet. Fully assembled, easy-to-install vanity cabinets are readily available in several sizes and designs, but they all serve two primary functions. First, a bath vanity has a countertop that supports the sink and faucet. And just as important, it provides plenty of storage space right where you need it.
Depending on the size of the bathroom, you can install either a single-sink or double-sink vanity. The double vanity will obviously provide more storage and counter space than a single vanity, but both options typically have under-sink storage and may have a bank of drawers on one or both sides of the doors.
If you need more space than a vanity can provide, consider installing an auxiliary cabinet. Most major cabinet manufacturers offer a line of auxiliary bath cabinets that provide an easy, cost-effective way to add storage to any bathroom. Below is a detailed look at the five most popular auxiliary cabinets. They can be used alone or in conjunction with other units to transform even the most compact, cluttered bath into a clean, well-organized space.
1. Linen Cabinets
Freestanding linen cabinets are available in dozens of sizes, styles and colors to suit any décor or space, no matter how cramped it may be.
Linen cabinets can be divided into two basic shapes: tall and narrow, and low and wide.
Taller cabinets are ideal for squeezing storage alongside the sink, next to a window or in a corner. They're often as narrow as 15 in. wide.
Low, wide linen cabinets range in width from 26 in. to 36 in., so they require a bit more wall space. However, their low tops can be used for placing everyday items or storage baskets.
Depending on the cabinet manufacturer, some assembly may be required. Linen cabinets come with all the necessary hardware and fasteners, and most can be assembled in less than 30 minutes using basic hand tools.
Safety note: To prevent freestanding cabinets from toppling over, be sure to securely fasten them to the wall.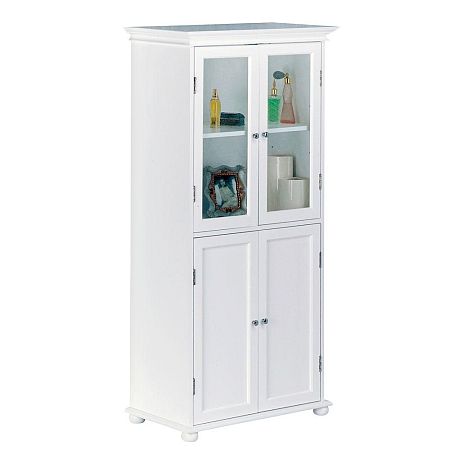 This spacious linen cabinet has two glass-pane doors and two wood-panel doors.
2. Wall Cabinets
When floor space is limited, consider installing a wall-mounted bath cabinet. These space-saving storage units come in a variety of styles and colors to complement or contrast the existing bath cabinetry.
The most popular style has an open shelf situated below a two-door cabinet. The shelf is useful for displaying decorative objects or keeping often-used items within easy reach, and the upper cabinet is ideal for storing health and beauty supplies or medications. When installing a wall cabinet, be sure to drive the mounting screws securely into wall studs or other solid-wood framing.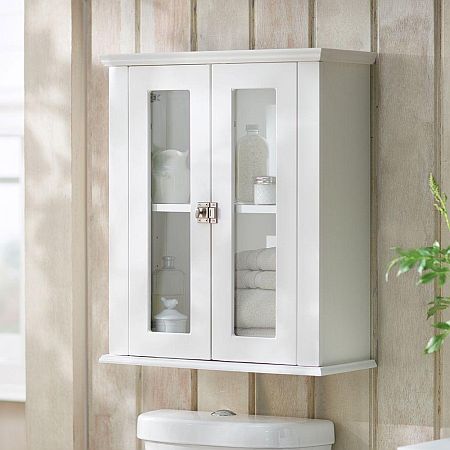 Designed specifically for placement above a toilet, this "over the john" cabinet has two glass-pane doors and brushed-nickel hardware.
3. Medicine Cabinet
Gain a little extra storage space (plus a mirror) with a wall-mounted medicine cabinet. This type of cabinet is typically installed over the sink and features a hinged mirror door that opens to reveal a shallow cabinet lined with shelves. While the shelves are seldom more than 3 in. deep, they can hold a surprising number of small bottles, jars, tubes and boxes—items that gets lost if tossed into a drawer or vanity cabinet.
Medicine cabinets are commonly available with one, two or three mirrored doors. Note that most medicine cabinets can be installed one of two ways: recessed or flush-mounted.
Recessed installation requires cutting a hole in the wall and setting the cabinet between two wall studs. This type of installation requires more work, but looks much neater. Flush-mounted cabinets are simply screwed to the wall, which is quick and easy, but doesn't look as integrated.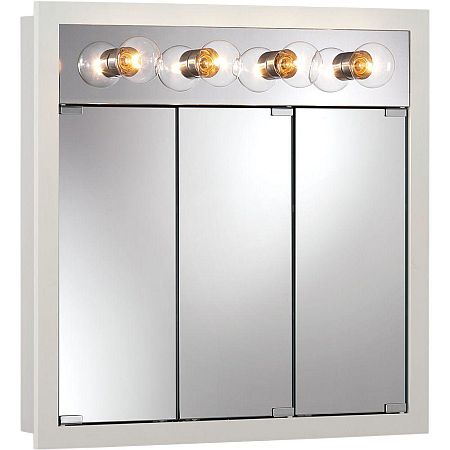 Illumination and reflection come together in this triple-door medicine cabinet that comes pre-wired with four vanity lights.
4. Freestanding Shelves
Freestanding shelves take up very little floor space, install in minutes, can easily be moved around and repositioned, and provide ample storage space for both bath linens and toiletries. Bathroom-shelving units come in a dizzying array of sizes, colors, styles, and materials to suit any bath.
Space-saving models are available for use in corners, taking advantage of floor space that typically goes unused.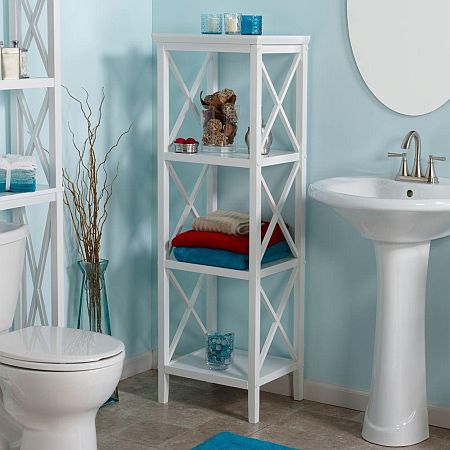 Called a towel tower, this white-painted freestanding shelving unit has three deep shelves for storing bath linens.
5. Wall-Mounted Shelves
Wall-mounted shelves provide a quick, easy way to add storage to any bathroom, no matter how small and crowded it is. You can stack the shelves, spacing them 10 to 12 in. apart, to increase storage, without sacrificing floor space.
Bath shelves are typically made of glass or chrome-plated metal; both styles blend in nicely with most bath fixtures and fittings. There are even space-saving shelves designed to fit snugly into the room corner.
It's best to fasten the shelves to wall studs, but if they'll be used to store small, lightweight bottles and jars, then hollow-wall anchors will suffice.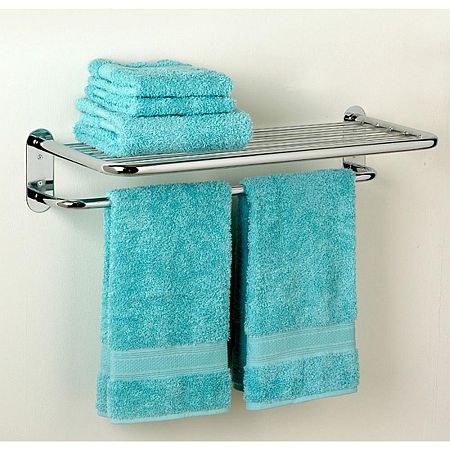 This hotel-style-wall-mounted shelf has a horizontal bar for draping one bath towel or two hand towels, and the top shelf can hold up to four folded bath towels.
If you're looking to add storage to your bathroom, start with an updated vanity that can provide plenty of room to tuck away towels, toiletries and cleaning and beauty products. Then, look for space where you can complement that storage with one of these shelving or cabinet ideas.
Want to estimate your home improvement costs before talking with a contractor? Claim your home for free with bluehammer to estimate costs, secure your home inventory and learn more about your home.
* THIS REPORT IS AN OPINION THAT MAY BE INACCURATE AND IS PROVIDED SOLELY AS AN INFORMATIONAL TOOL NOT DESIGNED TO PROVIDE DEFINITIVE ANSWERS. ALL ELEMENTS ARE OFFERED "AS IS" AND BLUEBOOK EXPRESSLY DISCLAIM ANY AND ALL WARRANTIES, REPRESENTATIONS, AND GUARANTEES OF ANY NATURE, EXPRESS, IMPLIED OR OTHERWISE, INCLUDING BUT NOT LIMITED TO ANY IMPLIED WARRANTIES OF MERCHANTABLITILY, NONINFRINGEMENT, TITLE, QUIET ENJOYMENT, ACCURACY, OR FITNESS FOR A PARTICULAR PURPOSE. IN NO EVENT SHALL BLUEBOOK (OR THEIR SUPPLIERS) BE LIABLE FOR ANY GENERAL, DIRECT, SPECIAL, INCIDENTAL, INDIRECT OR CONSEQUENTIAL DAMAGES OF ANY KIND, OR ANY DAMAGES WHATSOEVER (INCLUDING WITHOUT LIMITATION, THOSE RESULTING FROM USE OF THE PRODUCT, INCLUDING : (1) RELIANCE ON THE MATERIALS PRESENTED, (2) COSTS OF REPLACEMENT GOODS, (3) LOSS OF USE, DATA OR PROFITS, (4) DELAYS OR BUSINESS INTERRUPTIONS, (5) AND ANY THEORY OF LIABILITY, ARISING OUT OF OR IN CONNECTION WITH THE USE OR PERFORMANCE OF INFORMATION) WHETHER OR NOT BLUEBOOK HAS BEEN ADVISED OF THE POSSIBILITY OF SUCH DAMAGES.