10 Ways To Transform Your Trashy Old Furniture Into Standout Pieces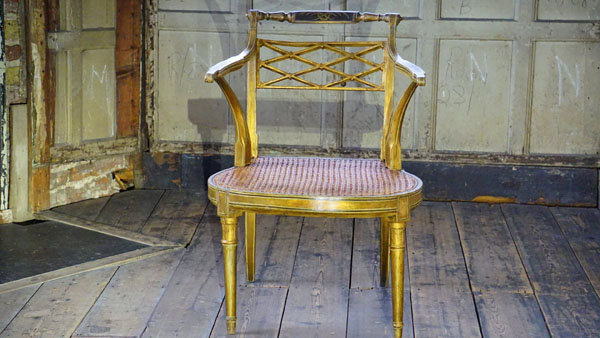 We know. That antique sideboard or set of chairs you got after your grandma died is sentimental, but also completely clashy with every other piece of furniture you own, not to mention out of touch with your general sense of style.
Don't trash it or stash it. Beautify it with a coat or paint or some fresh new upholstery. You just might end up with a killer item that becomes the centerpiece of your space.
Here are 10 ways to transform those old pieces into something amazing:
1. Paint it black
A sad finish on a great, solid piece of furniture can bring it down. A coat of black paint can transform a dowdy old garage dweller into a showstopper you'll want to feature prominently in your home.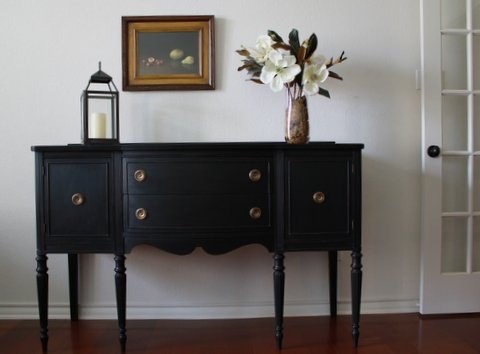 foter
2. Paint it white
White can transform a piece of furniture in multiple ways. Choose a chalky paint for a French country finish or gloss to make it modern. It can even turn an old Indonesian bench into a beachy spot for lounging.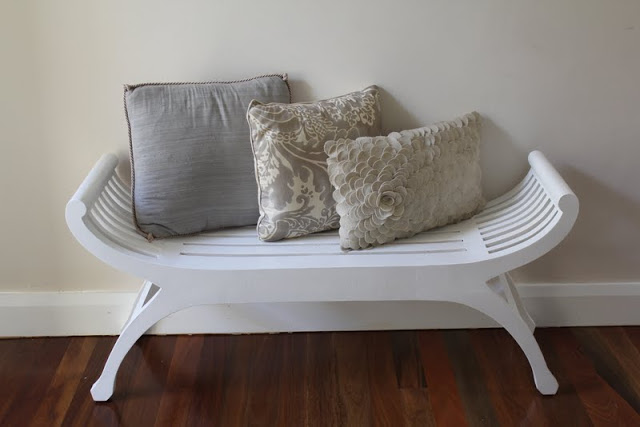 Lilyfield Life
3. Paint it your favorite color
This antique blanket chest might not have stood out for the right reasons with its old mid-tone wood finish. But in dusty blue, it's getting attention for all the right reasons.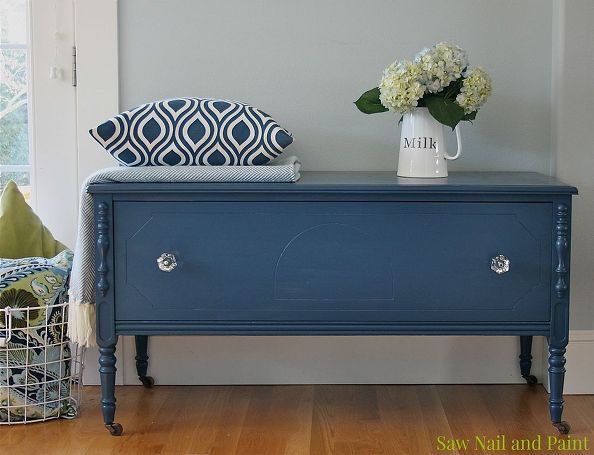 Apartments I Like
4. Upholster it
Dated, dreary, torn, or worn fabric can hide the beauty of an antique piece. A curvy chair gets new life with a bright pop of floral upholstery and a surprising striped arm.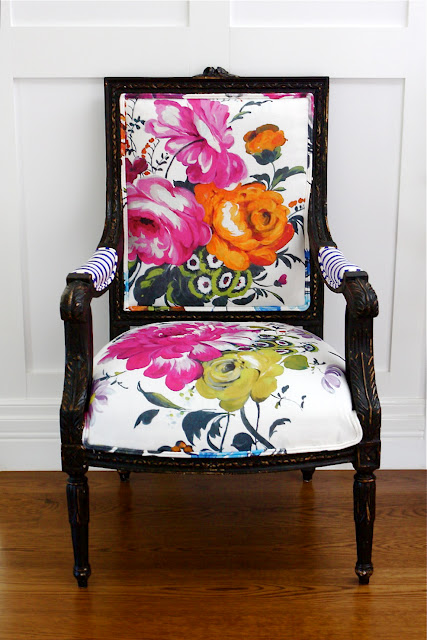 1700 Louisiana
5. Paint it a color you never considered
An antique bookcase gets new life with a bold splash of fuchsia.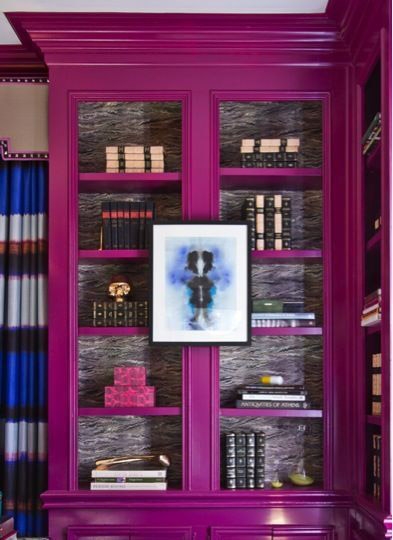 foter
6. Stripe it
Racing stripes turn this solid piece into something special.
7. Stripe it in something other than black and white
A bold color choice, some horizontal stripes, and a little antiquing create a one-of-a-kind piece.
WANELO
8. Antique it even further
Take a piece that's a little beat up, and then take it a step further. A little sandpaper, a little wax, and you have a masterpiece.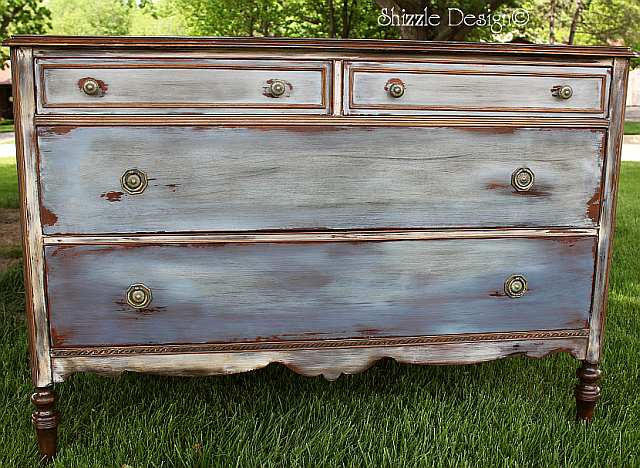 Shizzle Design
9. Have a little fun with it
Who says your dining room chairs have to be stodgy?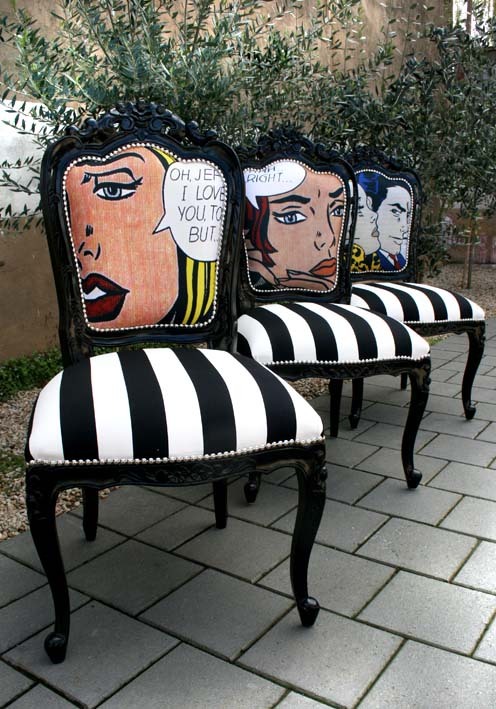 Paula Gold
10. Add an unexpected pattern to your unexpected color choices
What could be more fun than painting the Union Jack on your old dresser? Painting it in pink and orange!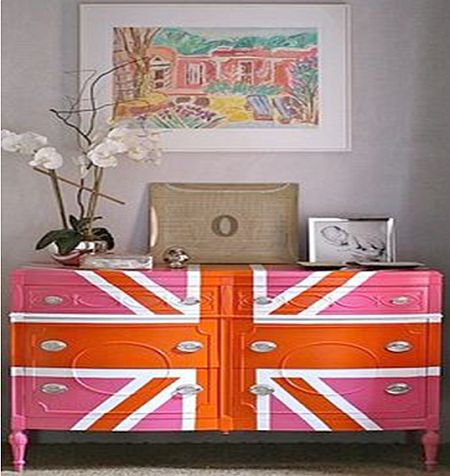 Pinterest
Want to estimate your home improvement costs before talking with a contractor? Claim your home for free with bluehammer to estimate costs, secure your home inventory and learn more about your home.
* THIS REPORT IS AN OPINION THAT MAY BE INACCURATE AND IS PROVIDED SOLELY AS AN INFORMATIONAL TOOL NOT DESIGNED TO PROVIDE DEFINITIVE ANSWERS. ALL ELEMENTS ARE OFFERED "AS IS" AND BLUEBOOK EXPRESSLY DISCLAIM ANY AND ALL WARRANTIES, REPRESENTATIONS, AND GUARANTEES OF ANY NATURE, EXPRESS, IMPLIED OR OTHERWISE, INCLUDING BUT NOT LIMITED TO ANY IMPLIED WARRANTIES OF MERCHANTABLITILY, NONINFRINGEMENT, TITLE, QUIET ENJOYMENT, ACCURACY, OR FITNESS FOR A PARTICULAR PURPOSE. IN NO EVENT SHALL BLUEBOOK (OR THEIR SUPPLIERS) BE LIABLE FOR ANY GENERAL, DIRECT, SPECIAL, INCIDENTAL, INDIRECT OR CONSEQUENTIAL DAMAGES OF ANY KIND, OR ANY DAMAGES WHATSOEVER (INCLUDING WITHOUT LIMITATION, THOSE RESULTING FROM USE OF THE PRODUCT, INCLUDING : (1) RELIANCE ON THE MATERIALS PRESENTED, (2) COSTS OF REPLACEMENT GOODS, (3) LOSS OF USE, DATA OR PROFITS, (4) DELAYS OR BUSINESS INTERRUPTIONS, (5) AND ANY THEORY OF LIABILITY, ARISING OUT OF OR IN CONNECTION WITH THE USE OR PERFORMANCE OF INFORMATION) WHETHER OR NOT BLUEBOOK HAS BEEN ADVISED OF THE POSSIBILITY OF SUCH DAMAGES.