New Windows Changed My House - and My Mind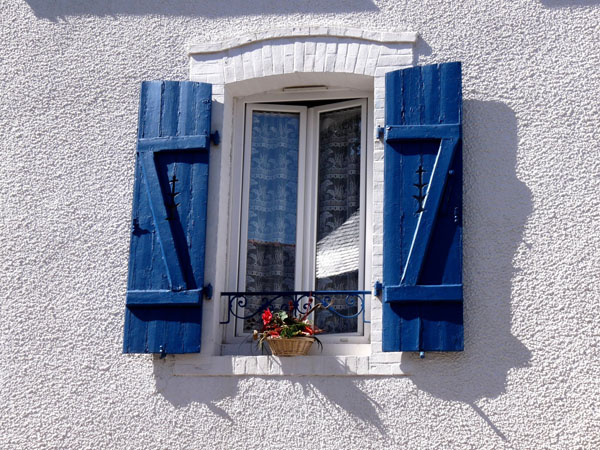 It was exciting to contemplate city life after living in smaller towns. Apparently, everyone else thought so too, because by the time I decided I liked a house, it was gone from the market.
Between struggling with a tight real estate market and shopping from across the country, it wasn't easy to find a house. While the city offers the charm of older neighborhoods and homes of by-gone eras, it also means that you can be pretty sure that you'll be remodeling something.
That's how my window struggle came into light.
I'd snagged a home full of potential. Nestled in a full acre of green grass and big trees, the brick home offered the room I needed and the one-story I desired - plus it had the original hardwoods. Tangled up in an estate, it had sat empty for four years.
So here I stood trying to gaze out the spider web-coated windows of a 1950s-era ranch and see the beautiful maples and oaks. It was like an oasis tucked in the city. As I did, I began to list the key items on my to-do list, like a modern kitchen, repaired air ducts, pipe repairs and a new coating on the driveway.
Windows barely made the list. The inspection report noted some could not be opened, as the inspector didn't want to put too much force on a window in case it might break. In negotiation, we asked for the windows to be repaired so they opened. It seemed a good safety idea - not to mention a lovely weather day idea - for the windows to actually open.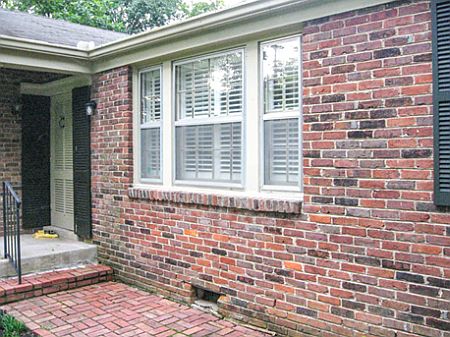 As I began to focus on key items, like a modern kitchen, leaking air ducts, plumbing issues and an eroding driveway, so windows barely made the list. The inspection report noted some could not be opened, as the inspector didn't want to put too much force on a window in case it might break. In negotiation, we asked for the windows to be repaired so they opened. It seemed like a good safety idea—not to mention a lovely weather day idea—for the windows to actually open.
Funny now to think I thought that meant I was done with windows.
Two things came into play nearly simultaneously. Only a day or two after the moving van unloaded, I decided I couldn't take the dirty windows another day. So despite having mountains of boxes to maneuver around, cleaning years of grime got moved to the top of the list. Armed with rags, cleaning supplies and a step-ladder, I marched to dark, dirty glass in the dining room. That's when I discovered the window would not budge. It had opened on the last walk-thru, but would not open today.
Humidity had played a part in the old wood swelling. Undaunted, I cleaned the inside and headed outside to clean it from that direction. Covering the window were storm windows that probably hadn't been removed in years, if not decades. They were supposed to slide up, but it wasn't happening. As I moved around the house, I noticed a great portion of the windows had issues, including cracks, I could not resolve.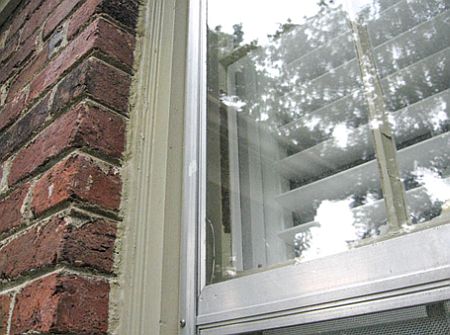 Ultimately, it didn't take long to learn that I couldn't live with the old windows that didn't function. In fact, changing out the windows got bumped up to the top of the list.
My desire for the windows had to do with function. I wanted to see out them and open them. I hadn't really thought about the look. I guess I thought a white window replaced by a white window would be the same. Instead, it was a huge shock to learn what enormous difference new windows made in the appearance and feel of the home.
In one day, the house went from one that looked like it had black widow spiders in the lock box to one that looked loved and inviting. The old windows contained grilles, the pieces of wood which visually divides a pane of glass so it appears to be made of smaller panes. The new windows I chose did not have grilles. That move made every window seem bigger and every room seem brighter. Of course, the new windows, without years of wear and the layer of dirty storm windows, really were brighter.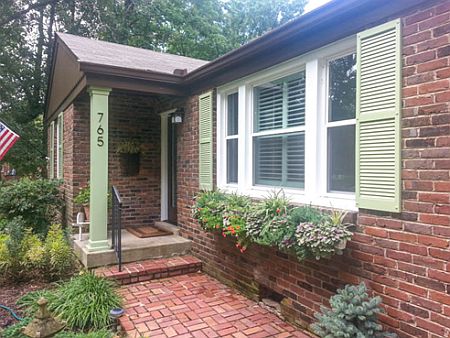 While I was waiting on windows and other key repairs, like electrical panel upgrades, I was trying to plan that kitchen remodel as well as a bathroom re-do. In trying to save costs where I could, I was working around existing windows. Despite taking down a wall to get more space, no matter how I moved around cabinets and appliances in my kitchen drawing, I could not get good workflow. In the current design, a small table for two sat in front of the only window, a long one that went nearly to the floor.
One day, someone asked me why I was working around that long window. They suggested I put in a shorter window and place the sink under the window. It was a light bulb moment.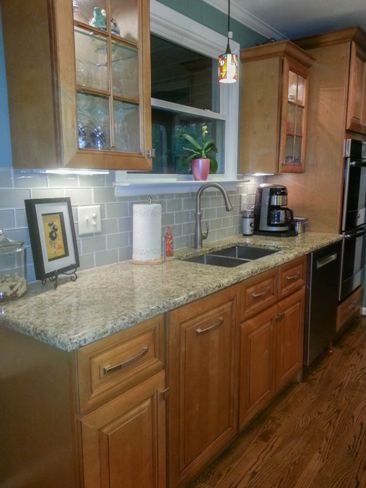 With a brick house, I'd not even thought about changing a window's dimensions. It turns out it wasn't hard at all. Since the window's exterior is on my screen porch, I choose wood to fill in the space of the shortened window and painted it to match the window, rather than have a brick mason brick in the space.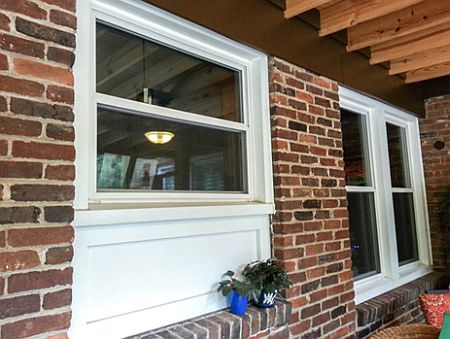 The same width was kept, but the shortened window allowed for a changed countertop and sink placement and suddenly made the whole kitchen plan work. I also shortened a window in the remodeled bathroom, which meant the soaking tub could be placed under the window and I'd still get plenty of natural light.
The new windows really changed the whole look and feel of the old house. When I get a chance to talk remodeling, I now tell people replacing old windows needs to be at the top of their list.
Want to estimate your home improvement costs before talking with a contractor? Claim your home for free with bluehammer to estimate costs, secure your home inventory and learn more about your home.
* THIS REPORT IS AN OPINION THAT MAY BE INACCURATE AND IS PROVIDED SOLELY AS AN INFORMATIONAL TOOL NOT DESIGNED TO PROVIDE DEFINITIVE ANSWERS. ALL ELEMENTS ARE OFFERED "AS IS" AND BLUEBOOK EXPRESSLY DISCLAIM ANY AND ALL WARRANTIES, REPRESENTATIONS, AND GUARANTEES OF ANY NATURE, EXPRESS, IMPLIED OR OTHERWISE, INCLUDING BUT NOT LIMITED TO ANY IMPLIED WARRANTIES OF MERCHANTABLITILY, NONINFRINGEMENT, TITLE, QUIET ENJOYMENT, ACCURACY, OR FITNESS FOR A PARTICULAR PURPOSE. IN NO EVENT SHALL BLUEBOOK (OR THEIR SUPPLIERS) BE LIABLE FOR ANY GENERAL, DIRECT, SPECIAL, INCIDENTAL, INDIRECT OR CONSEQUENTIAL DAMAGES OF ANY KIND, OR ANY DAMAGES WHATSOEVER (INCLUDING WITHOUT LIMITATION, THOSE RESULTING FROM USE OF THE PRODUCT, INCLUDING : (1) RELIANCE ON THE MATERIALS PRESENTED, (2) COSTS OF REPLACEMENT GOODS, (3) LOSS OF USE, DATA OR PROFITS, (4) DELAYS OR BUSINESS INTERRUPTIONS, (5) AND ANY THEORY OF LIABILITY, ARISING OUT OF OR IN CONNECTION WITH THE USE OR PERFORMANCE OF INFORMATION) WHETHER OR NOT BLUEBOOK HAS BEEN ADVISED OF THE POSSIBILITY OF SUCH DAMAGES.