5 Home Upgrades For Your Vacation Rental Space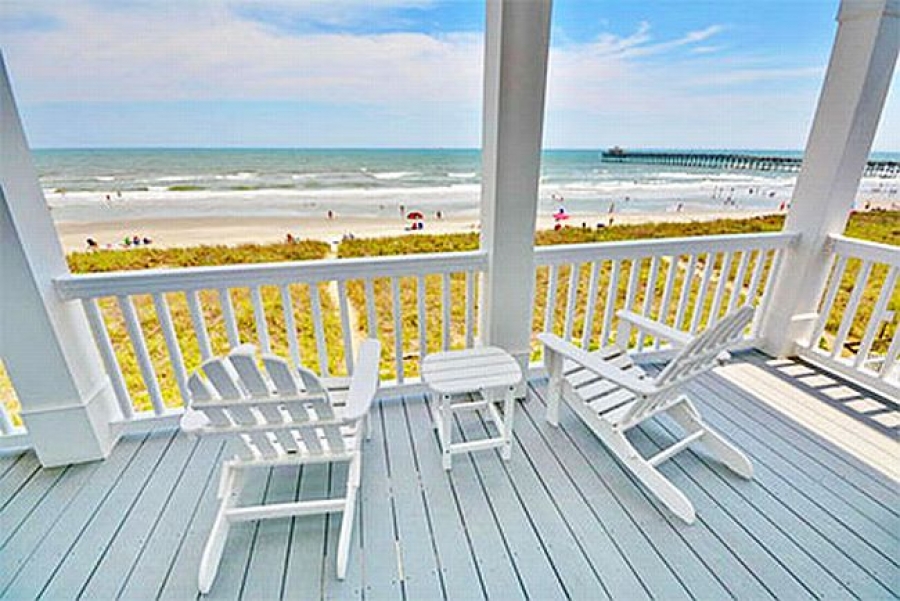 Vacation rentals are experiencing a surge of popularity as websites like VRBO and Airbnb make them more accessible. Guests can find a place that fits their budget, location and accommodation needs. Hosts can easily list their property.
The real challenge is creating a space which stands out and offers more than a guest could hope for. Why should they stay in your spare bedroom or pool house when they can simply instant book a hotel around the corner? What does your rental have that a hotel doesn't? Here are a few renovation ideas for turning your rental space into a destination, rather than a basic bedroom for travelers to crash. These renovations and upgrades can boost your feedback, and may even give you an opportunity to raise your rates!
1. Make getting in secure and simple.
Traveling already comes with a few frustrations. When your guests finally reach your door, entry should be a breeze to eliminate further irritation. Installing a lockbox is one of the most convenient updates you can make. With a lockbox, they can arrive whenever is convenient for them and they won't be fumbling around your porch looking for "the blue planter" where the key is hidden. They will also feel 100% more safe, knowing that you keep your keys secure rather than taking any risks hiding them.
2. Curate a comfortable place to rest.
It is very important for your paying guests to get a good night's sleep. The bedroom should be a place where they can relax and unwind after exploring the city, climbing a mountain or sitting through long seminars. You can create a relaxing bedroom with a soothing color scheme and low-fuss decor, but it will all come down to the mattress. This is where you can afford to make an investment. Visitors who wake up feeling more aches and pains than before will not be happy customers. Invest in a high quality mattress. Bedding should be attractive, durable and comfortable. This will hopefully help you achieve five-star reviews and return guests.
3. Create an oasis in the bathroom.
A luxurious bathroom can be a major selling point when a would-be traveler is flipping through property photos. This type of renovation is a great opportunity to set your space apart from any old hotel room. Create a spa-inspired area that is a getaway, not just an average home bathroom.
Renovate with tile, either in small accent spaces or all-over.
Swap standard shower heads for luxury ones with adjustable pressure.
Install flattering and relaxed lighting.
Freshen up the paint with a soothing palette, like taupe, light gray and wood.
Give your guests enough counter space to spread out.
Consider convenient extras, like a radio or even heated floors.
Keep the bathroom stocked with fresh towels and toiletries.
For more ideas, see these budget-friendly bathroom upgrades on HomeAdvisor.
4. Build an inviting outdoor retreat.
An attractive outdoor space can do a lot to secure more bookings. Vacations are often the best chance people have of getting some fresh air. When they aren't out and about, they will want an area to enjoy a morning coffee or an evening wine outside. You could go all-out and build an outdoor living space, complete with a kitchen and dining area. However, small additions like Adirondack chairs, portable firepits and a thoughtfully planted landscape can significantly improve your property's appeal. Be sure to highlight these outdoor spaces in your photo gallery.
5. Cook up a new kitchen plan.
It is well worth it to upgrade your kitchen, especially if you're going to have frequent guests. Easy-to-use, modern appliances make for less confusion. Many of today's travelers are used to the convenience of having a dishwasher, a fridge with an icemaker, a toaster oven and an efficient microwave. If they don't know how to use the appliances in your kitchen, they're going to have a tough time saving money on food—one of the many benefits of renting a home.
Aside from providing the right appliances, you can increase your appeal by upgrading outdated cabinetry and replacing inexpensive countertops with granite. Granite can be deceptive in its beauty--it is also extremely durable, low-maintenance and resistant to heat. An investment in granite is a lasting one that may benefit both your rental appeal and even resale value.
Any of these improvements can make your property more appealing to vacationers, whether you're renting out a whole house, a single bedroom, or a mother-in-law suite. Spend some time in your rental to see where you could make renovations. Is there a place to relax outside? Are there any tricky knobs on your oven? Remove minor inconveniences and make your property as accessible as possible for maximum appeal within your rentable space.
Want to estimate your home improvement costs before talking with a contractor? Claim your home for free with bluehammer to estimate costs, secure your home inventory and learn more about your home.
* THIS REPORT IS AN OPINION THAT MAY BE INACCURATE AND IS PROVIDED SOLELY AS AN INFORMATIONAL TOOL NOT DESIGNED TO PROVIDE DEFINITIVE ANSWERS. ALL ELEMENTS ARE OFFERED "AS IS" AND BLUEBOOK EXPRESSLY DISCLAIM ANY AND ALL WARRANTIES, REPRESENTATIONS, AND GUARANTEES OF ANY NATURE, EXPRESS, IMPLIED OR OTHERWISE, INCLUDING BUT NOT LIMITED TO ANY IMPLIED WARRANTIES OF MERCHANTABLITILY, NONINFRINGEMENT, TITLE, QUIET ENJOYMENT, ACCURACY, OR FITNESS FOR A PARTICULAR PURPOSE. IN NO EVENT SHALL BLUEBOOK (OR THEIR SUPPLIERS) BE LIABLE FOR ANY GENERAL, DIRECT, SPECIAL, INCIDENTAL, INDIRECT OR CONSEQUENTIAL DAMAGES OF ANY KIND, OR ANY DAMAGES WHATSOEVER (INCLUDING WITHOUT LIMITATION, THOSE RESULTING FROM USE OF THE PRODUCT, INCLUDING : (1) RELIANCE ON THE MATERIALS PRESENTED, (2) COSTS OF REPLACEMENT GOODS, (3) LOSS OF USE, DATA OR PROFITS, (4) DELAYS OR BUSINESS INTERRUPTIONS, (5) AND ANY THEORY OF LIABILITY, ARISING OUT OF OR IN CONNECTION WITH THE USE OR PERFORMANCE OF INFORMATION) WHETHER OR NOT BLUEBOOK HAS BEEN ADVISED OF THE POSSIBILITY OF SUCH DAMAGES.