How To Choose The Right Vanity To Kick Off Your Bathroom Remodel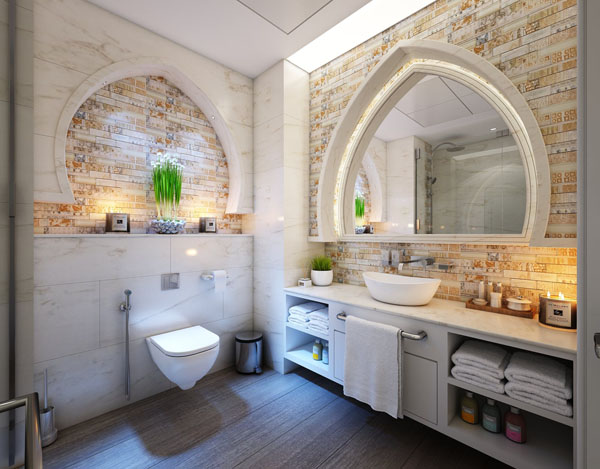 You can change your bathroom lighting, your floors, and your fixtures. But if your vanity is rickety, chipped, timeworn, or just plain ugly, your bathroom might feel that way too.
The vanity can be the star, and whether your style is traditional, modern, or somewhere in the middle, you can easily transform your space with this one key piece.
"It's not always the most glamorous part of a bathroom remodel, but choosing the right vanity can make or break your bathroom's design," said Houzz. "If it's placed awkwardly in a traffic route, uses poor or mismatched materials, or doesn't have enough storage, the rest of your bathroom will suffer."
The right style
Choosing a vanity can speak volumes about your design aesthetic. Lean toward traditional style? Furniture-style vanities with rich wood and details like ornate carving and legs or feet might be for you.
Maybe you love antiques. Finding an old sideboard or dresser and fashioning it into a vanity can bring interest and distinction to the space. Just remember to treat the wood properly to keep water away.
HGTV
Modern lines have been the trend for several years, and there is no shortage of vanities that bring some panache to the bathroom.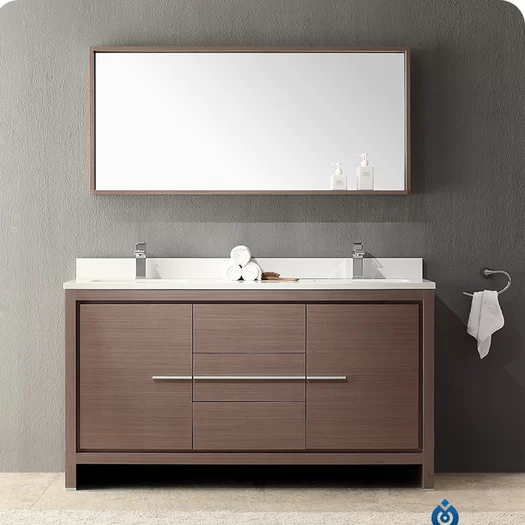 ALL MODERN
The right size
Having dual sinks is generally preferred in bathrooms, except for powder rooms—in this space, using a decorative vanity that's not dependent on extensive storage space can give this room a lift. But a tight space may make it difficult to accommodate two sinks and any semblance of counter space in a bathroom that needs to function for family.
As HGTV says, "Often it's the size of the room that dictates the size of the vanity." If you're redoing a bathroom, you might want to ask your real estate agent if installing a small dual-sink vanity like this one from IKEA is a better option than a one-sink vanity with more counter space.
One of the newest trends is floating vanities, which can give a bathroom some modern flair while also functioning well in a smaller space. This wall-mounted option creates an airy feel because of the open space below.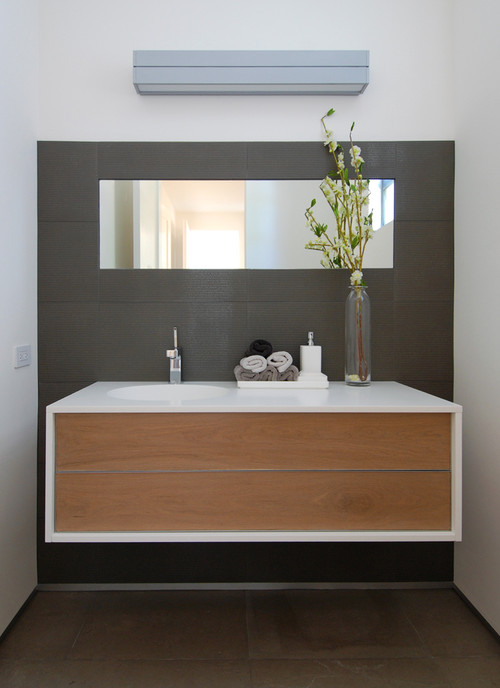 Modern Bathroom by Palo Alto Architects & Building Designers Maydan Architects, Inc.
Sometimes a custom vanity is what's needed. Choose one with open space like this option to create a stylish look; you can increase the storage space with baskets.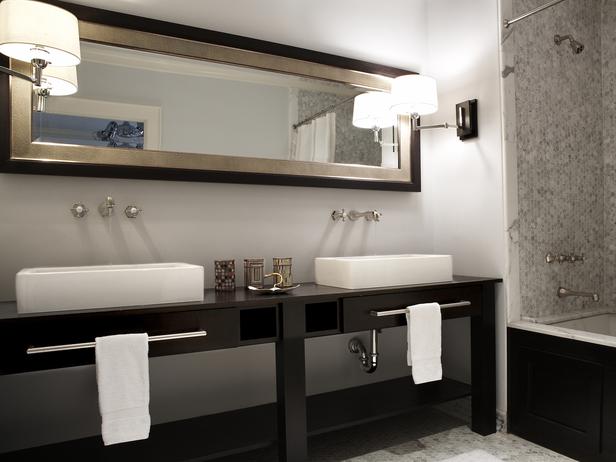 Housely
The right material
Traditionally, vanities are made of some kind of wood or wood product, whether they're painted, lacquered, or kept in their natural state. But they don't have to be.
They also don't need to be a traditional shape or style.
This vanity reflects its abode in a unique way. "When New York design firm Carrier and Company converted an old dairy barn into a guest cottage for a client, they saw big possibilities in this soapstone cow trough salvaged from the property," said DIY Network. "Owner Jesse Carrier and his team added custom hinged wood tops to create one of the most unusual and beautiful bathroom vanities you'll ever see."
DIY Network
This upcycled bicycle vanity from artist Benjamin Bullins made him "a Pinterest phenomenon," said DIY Network.
DIY Network
If you really want to use wood for your vanity, REALLY use wood. This live edge vanity will surely be a conversation piece.
HOME DESIGNING
Want to estimate your home improvement costs before talking with a contractor? Claim your home for free with bluehammer to estimate costs, secure your home inventory and learn more about your home.
* THIS REPORT IS AN OPINION THAT MAY BE INACCURATE AND IS PROVIDED SOLELY AS AN INFORMATIONAL TOOL NOT DESIGNED TO PROVIDE DEFINITIVE ANSWERS. ALL ELEMENTS ARE OFFERED "AS IS" AND BLUEBOOK EXPRESSLY DISCLAIM ANY AND ALL WARRANTIES, REPRESENTATIONS, AND GUARANTEES OF ANY NATURE, EXPRESS, IMPLIED OR OTHERWISE, INCLUDING BUT NOT LIMITED TO ANY IMPLIED WARRANTIES OF MERCHANTABLITILY, NONINFRINGEMENT, TITLE, QUIET ENJOYMENT, ACCURACY, OR FITNESS FOR A PARTICULAR PURPOSE. IN NO EVENT SHALL BLUEBOOK (OR THEIR SUPPLIERS) BE LIABLE FOR ANY GENERAL, DIRECT, SPECIAL, INCIDENTAL, INDIRECT OR CONSEQUENTIAL DAMAGES OF ANY KIND, OR ANY DAMAGES WHATSOEVER (INCLUDING WITHOUT LIMITATION, THOSE RESULTING FROM USE OF THE PRODUCT, INCLUDING : (1) RELIANCE ON THE MATERIALS PRESENTED, (2) COSTS OF REPLACEMENT GOODS, (3) LOSS OF USE, DATA OR PROFITS, (4) DELAYS OR BUSINESS INTERRUPTIONS, (5) AND ANY THEORY OF LIABILITY, ARISING OUT OF OR IN CONNECTION WITH THE USE OR PERFORMANCE OF INFORMATION) WHETHER OR NOT BLUEBOOK HAS BEEN ADVISED OF THE POSSIBILITY OF SUCH DAMAGES.