How To Renew Your Deck In 5 Easy Steps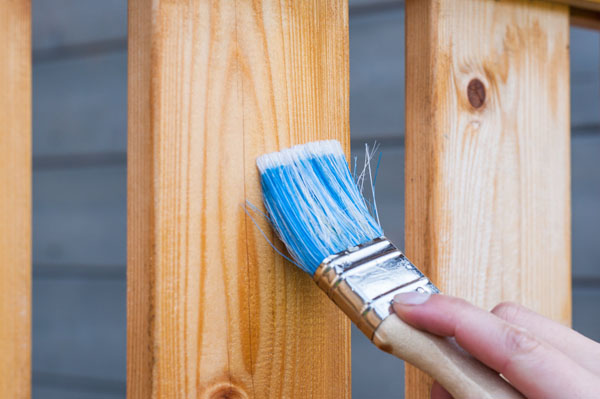 Summer is here, which means you need to take a hard look at your deck. Given winter's inclement conditions, there's a good chance your deck is in need of some attention. Here are some quick and easy steps for getting it in shape:
#1 Clean your deck.
Regular cleaning prevents your deck from graying and looking worn down. You can employ a few different methods to keep it spotless:
Use a hose: Use a garden hose with a spray nozzle to get rid of debris and dirt.
Pressure wash: High-pressure water can get between slats and take off any stubborn debris. The cost to pressure wash a deck is about $250.
Scrub it down: For really harsh debris, you might need to get down on your hands and knees to remove the buildup or stains.
#2 Check for repairs.
Once the deck is clean, you can inspect for any potential damage points. Keep an eye out for:
Broken boards
Missing stain
Termite holes
Cracks
You can DIY most of these problems, but if you have termites infesting your deck, think about hiring a pest control service. Otherwise, consider replacing boards or restaining the surface.
#3 Sand it down.
If your stain is stripped away, consider sanding the surface. If you don't want to spend all day sanding, you can rent a floor sander. After you've sanded your decking smooth, apply a finish.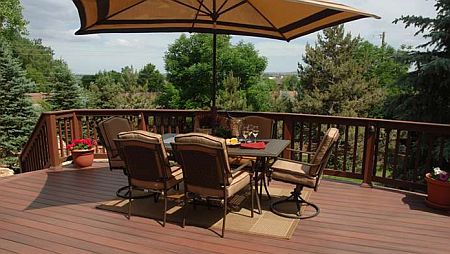 #4 Stain or seal your deck.
Once you've sanded down the surface, think about sealing or staining. Finishes help protect against water damage, mildew and inclement weather. Here are some considerations when determining whether to seal or stain a deck:
Seal: Seal your deck if you like a natural look. Sealing your deck will cost about $790 and you can choose from a variety of sealing products.
Stain: Staining will cost about $850, depending on the size of the deck. You can stain your deck in different colors and finishes.
#5 Consider a brightener.
Use a brightener if your deck has stains or grey spots. You can apply brightener using a garden spray hose. A fresh coat of brightener will renew the appearance of your deck without expensive and time-consuming repairs.
Conclusion
Make sure to keep your deck in shape with regular maintenance and cleaning. Most of these jobs you can do as DIY projects. But don't be afraid to call a deck professional when the situation is beyond your expertise.
Want to estimate your home improvement costs before talking with a contractor? Claim your home for free with bluehammer to estimate costs, secure your home inventory and learn more about your home.
* THIS REPORT IS AN OPINION THAT MAY BE INACCURATE AND IS PROVIDED SOLELY AS AN INFORMATIONAL TOOL NOT DESIGNED TO PROVIDE DEFINITIVE ANSWERS. ALL ELEMENTS ARE OFFERED "AS IS" AND BLUEBOOK EXPRESSLY DISCLAIM ANY AND ALL WARRANTIES, REPRESENTATIONS, AND GUARANTEES OF ANY NATURE, EXPRESS, IMPLIED OR OTHERWISE, INCLUDING BUT NOT LIMITED TO ANY IMPLIED WARRANTIES OF MERCHANTABLITILY, NONINFRINGEMENT, TITLE, QUIET ENJOYMENT, ACCURACY, OR FITNESS FOR A PARTICULAR PURPOSE. IN NO EVENT SHALL BLUEBOOK (OR THEIR SUPPLIERS) BE LIABLE FOR ANY GENERAL, DIRECT, SPECIAL, INCIDENTAL, INDIRECT OR CONSEQUENTIAL DAMAGES OF ANY KIND, OR ANY DAMAGES WHATSOEVER (INCLUDING WITHOUT LIMITATION, THOSE RESULTING FROM USE OF THE PRODUCT, INCLUDING : (1) RELIANCE ON THE MATERIALS PRESENTED, (2) COSTS OF REPLACEMENT GOODS, (3) LOSS OF USE, DATA OR PROFITS, (4) DELAYS OR BUSINESS INTERRUPTIONS, (5) AND ANY THEORY OF LIABILITY, ARISING OUT OF OR IN CONNECTION WITH THE USE OR PERFORMANCE OF INFORMATION) WHETHER OR NOT BLUEBOOK HAS BEEN ADVISED OF THE POSSIBILITY OF SUCH DAMAGES.