Follow These Steps Before Starting Your Kitchen Remodel
If your kitchen is looking a bit dated, consider a remodel to upgrade its efficiency and looks. Here's a quick guide to planning your kitchen update:
#1 Plan it out.
Sketch out what you want your finished kitchen to look like. Whether you draw your designs by hand or use software, understanding the finished look of your kitchen is an essential first step.
#2 Measure your space.
It's important to know how much space you have to work with. Record the dimensions of your entire kitchen and other surrounding areas in your initial sketch. Use your measurements to plan the rest of your project.
#3 Choose storage options.
One of the biggest advantages of remodeling your kitchen is adding more space. Think about your current storage problems and how to solve them. Consider all your storage options, from standalone shelving units to built-in turntables in your new kitchen cabinets.
#4 Pick a color scheme.
Do you want to keep the same color scheme or go with something different? Do you want your kitchen to stand out from the rest of your home or blend in? Now is the time to answer these questions. Your color scheme could impact the appliance- and flooring-related aspects of your remodel.
#5 Compare materials.
Now it's time for window-shopping. Head to your local home improvement center and begin calculating your remodeling budget. Compare the different costs of different materials. While it's okay to splurge on some aspects, stray away from a $50,000 kitchen remodel.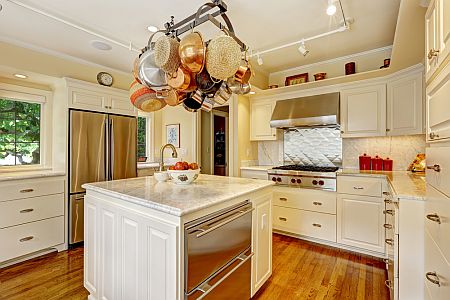 #6 Have a set budget.
Once you know how much your project will cost, start saving your money and planning your remodel in earnest. Prices can change over time, so be sure to include some flexibility in your budget. You'll also need to factor in the cost of permits and contractor labor.
#7 Find a remodeling pro.
Unless you are an expert, you will probably need to hire a remodeler to update your kitchen. Research local contractors, check their references and interview at least three pros before hiring one.
Conclusion.
Remodeling and redesigning your kitchen takes work. If you want to create an updated kitchen, you'll need to plan, budget and hire a trusted professional.
Want to estimate your home improvement costs before talking with a contractor? Claim your home for free with bluehammer to estimate costs, secure your home inventory and learn more about your home.
* THIS REPORT IS AN OPINION THAT MAY BE INACCURATE AND IS PROVIDED SOLELY AS AN INFORMATIONAL TOOL NOT DESIGNED TO PROVIDE DEFINITIVE ANSWERS. ALL ELEMENTS ARE OFFERED "AS IS" AND BLUEBOOK EXPRESSLY DISCLAIM ANY AND ALL WARRANTIES, REPRESENTATIONS, AND GUARANTEES OF ANY NATURE, EXPRESS, IMPLIED OR OTHERWISE, INCLUDING BUT NOT LIMITED TO ANY IMPLIED WARRANTIES OF MERCHANTABLITILY, NONINFRINGEMENT, TITLE, QUIET ENJOYMENT, ACCURACY, OR FITNESS FOR A PARTICULAR PURPOSE. IN NO EVENT SHALL BLUEBOOK (OR THEIR SUPPLIERS) BE LIABLE FOR ANY GENERAL, DIRECT, SPECIAL, INCIDENTAL, INDIRECT OR CONSEQUENTIAL DAMAGES OF ANY KIND, OR ANY DAMAGES WHATSOEVER (INCLUDING WITHOUT LIMITATION, THOSE RESULTING FROM USE OF THE PRODUCT, INCLUDING : (1) RELIANCE ON THE MATERIALS PRESENTED, (2) COSTS OF REPLACEMENT GOODS, (3) LOSS OF USE, DATA OR PROFITS, (4) DELAYS OR BUSINESS INTERRUPTIONS, (5) AND ANY THEORY OF LIABILITY, ARISING OUT OF OR IN CONNECTION WITH THE USE OR PERFORMANCE OF INFORMATION) WHETHER OR NOT BLUEBOOK HAS BEEN ADVISED OF THE POSSIBILITY OF SUCH DAMAGES.