How To Cut Your Costs Building A Pool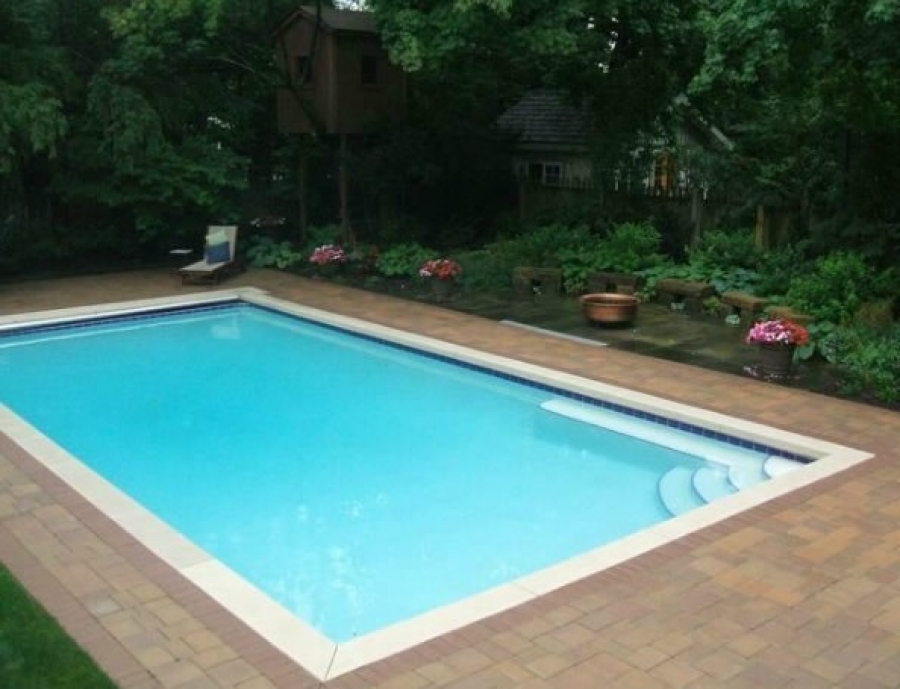 Having a pool can be one of the most enjoyable parts of homeownership, but building it can be an expensive undertaking. "If you're planning to install a pool, be prepared to open your wallet," said US News. "PK Data reports that the average cost of a residential in-ground swimming pool was $39,084 last year."
If you want a pool without the high price, there are ways to keep costs down:
1. Get multiple bids
Talking to only one company gives you no point of reference. You'll want to compare at least three bids from three different companies while you're deciding who is going to build your pool, even if the companies in the running are referrals. And, speaking of referrals, make sure you get them. Entrusting someone with that much money and responsibility without the recommendation of someone you trust - and without thoroughly checking them out—may not end well.
2. Think about the big picture
It might be that a larger upfront cost can lead to savings down the line. Consider this from Marc Sheridan of River Pools: "In the past, concrete, or gunite pools as they're also called, were almost always more expensive or at least priced about the same initially as fiberglass pools. This year though…I've been witness to some of the lowest prices offered on concrete pool installations in over 10 years. For example, on large pools, I'm finding that most concrete pools come in 5-10k less than a fiberglass pool."
The problem lies with using inexpensive surfaces that may not have lasting power. "Most consumers have no idea that they'll be shelling out an additional 8-12k minimum only a decade after install" of white plaster," he said. "When one compounds this number over the course of 20-30 years, the cost to the homeowner is even worse. This doesn't even account for the fact that most pool owners are now using salt chlorinators with their swimming pools, a technology of which I am a huge fan of but has been shown to be more abrasive on concrete pool surfaces than regular chlorine. This is also why I always recommend to my clients that decide to go with a concrete/gunite pool that they should go with a more permanent surface like PebbleTec. I always base decisions and recommendations on what is the best for the long-term, and not for the initial moment (price). What good does it does to save a few thousand dollars upfront on a swimming pool purchase if these savings will cost you thousands and thousands more in the long run?"
3. Go with a simple design
A pool design with multiple curves, steps, shelves, and other add-ons will raise the cost. Keep it simple for the best chance of keeping the price down.
4. Limit the materials
Exotic tiles and finishes in the pool, and upscale materials used on the decking and patio, can add thousands of dollars to the overall cost.
5. Forgo the bells and whistles
A spa, a waterfall, a bubbler, and an Infinity edge... All are desirable pool features, and all will add to your bottom line.
"By some estimates, the actual construction of an in-ground pool is only about half of what you will eventually pay," said Pool Pricer.
6. Pay attention to size
The bigger the pool, the more expense you'll have in piping, pumps, filters, chemicals, and energy used.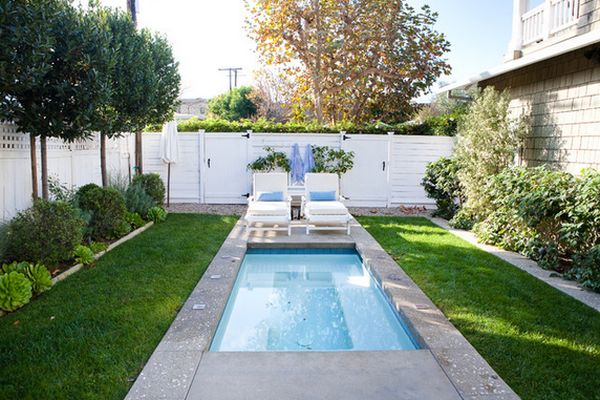 homedit
7. Do your own maintenance
Pools get dirty and have to be cleaned and maintained regularly. The monthly cost averages $130 to $378, according to HomeAdvisor, with pool cleaners charging $75 to $100 per hour or more. But, much of this cost can be eliminated if you choose to maintain the pool yourself.
"Maintaining your pool yourself will take less than two hours as long as you do it regularly. Routine maintenance not only keeps your pool clean for use, but it also allows you to spot problems early on - before they become big, costly repairs," they said.
8. Build a self-sustaining pond instead
The swimming pond is a growing trend that brings a natural look to the yard and limits the amount of maintenance that needs to be done. "One of the great benefits of a swimming pond is that it is chemical free. When managed properly, natural swimming pools have crystal-clear water and require no chemicals to maintain because they are self-cleaning mini-ecosystems," said Good Housekeeping.
9. Wait on the pool heater
"Adding a heater after having owned the swimming pool a season or more can be a great idea because pool owners can get a true gauge on just how much they need a heater, as well as what type of heater will suite them best," said Sheridan. This is especially useful in warmer climates where homeowners may not even need a heater in the summer.
10. Carefully choose the location
A pool that is located under trees may benefit from shade and therefore not need as much heating, however, it might end up with more leaves and debris, increasing the need for cleaning. The distance from the house is also a factor. "Well-planned pools are generally located close to the house, reducing costs associated with energy and water," said Contractors.com.
Want to estimate your home improvement costs before talking with a contractor? Claim your home for free with bluehammer to estimate costs, secure your home inventory and learn more about your home.
* THIS REPORT IS AN OPINION THAT MAY BE INACCURATE AND IS PROVIDED SOLELY AS AN INFORMATIONAL TOOL NOT DESIGNED TO PROVIDE DEFINITIVE ANSWERS. ALL ELEMENTS ARE OFFERED "AS IS" AND BLUEBOOK EXPRESSLY DISCLAIM ANY AND ALL WARRANTIES, REPRESENTATIONS, AND GUARANTEES OF ANY NATURE, EXPRESS, IMPLIED OR OTHERWISE, INCLUDING BUT NOT LIMITED TO ANY IMPLIED WARRANTIES OF MERCHANTABLITILY, NONINFRINGEMENT, TITLE, QUIET ENJOYMENT, ACCURACY, OR FITNESS FOR A PARTICULAR PURPOSE. IN NO EVENT SHALL BLUEBOOK (OR THEIR SUPPLIERS) BE LIABLE FOR ANY GENERAL, DIRECT, SPECIAL, INCIDENTAL, INDIRECT OR CONSEQUENTIAL DAMAGES OF ANY KIND, OR ANY DAMAGES WHATSOEVER (INCLUDING WITHOUT LIMITATION, THOSE RESULTING FROM USE OF THE PRODUCT, INCLUDING : (1) RELIANCE ON THE MATERIALS PRESENTED, (2) COSTS OF REPLACEMENT GOODS, (3) LOSS OF USE, DATA OR PROFITS, (4) DELAYS OR BUSINESS INTERRUPTIONS, (5) AND ANY THEORY OF LIABILITY, ARISING OUT OF OR IN CONNECTION WITH THE USE OR PERFORMANCE OF INFORMATION) WHETHER OR NOT BLUEBOOK HAS BEEN ADVISED OF THE POSSIBILITY OF SUCH DAMAGES.