Real Estate Agent Marketing: Engaging your clients and building your customer base through branded content.

Your clients are online and you should be talking to them. A social media presence is a requirement in today's competitive real estate landscape.
The key to a successful online presence is frequently sharing content with your clients that provides them value. The more you keep yourself on the forefront of your clients' minds, the more likely you are going to connect with them when they are ready for your services or have someone they can refer to you. Make sure you don't fall into the following traps when executing your social media marketing.
Common mistakes made by today's real estate agent in their social media marketing
They don't share frequently enoughHow often should you post to your followers? According to Louise Myers it depends on the platform. For Facebook she recommends a target of 3 posts a week at minimum to one post a day being optimal. For Twitter that number increases as your posts have a short shelf life and can be easily missed. Repetition is key to keeping the conversation going.
They are not sharing the right content Agents need to be posting more than just open house or listing information. While valuable, that type of information is only relevant to a smaller segment of their followers at any given time. HubSpot's 2015 Social Media Benchmarks Report shows that as a group, Real Estate Agent's have low engagement numbers on their social media posts. This is attributed to missing the mark on posting the type of content their clients want to engage with.
They don't close the loop

Having your own blog and writing your own content is time consuming so many Agents look for content that they can share from other sites. When a Real Estate agent shares content from another site, they are sending that site traffic without getting anything in return.
bluehammer™ solves these mistakes by providing home improvement and lifestyle content that is branded with the Real Estate Agent's contact information, photo and logo.
Using bluehammer provides Agents with access to an abundance of home improvement and lifestyle articles that are valuable to homeowners. As a bluehammer subscriber, every article shared contains the Agent's contact information, photo and logo prominently displayed providing the Agent the content and visibility needed to effectively build their online presence.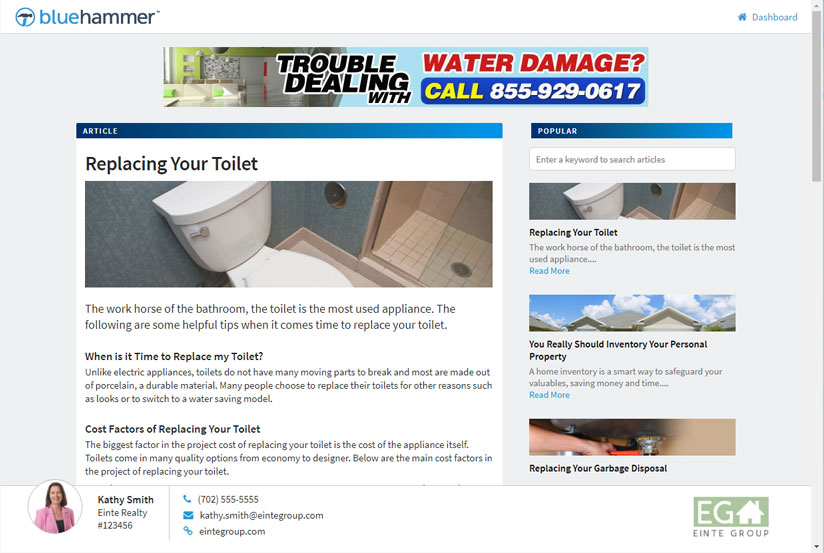 Sample article page with the Real Estate Agent's ad at the bottom
It's easy to use bluehammer to start growing you client base.
Log into bluehammer and click on the "Social Media Marketing Article" section

Easily find a bluehammer article with a topic you want to share and click the icon to get your personalized link.

Share the link

Paste the link into your Twitter, Facebook or any other social media account to share with your social media followers. You can also include it in your email newsletter.

That's it!

You have provided quality content and value to your clients. Everyone that reads that article will see your contact information prominently displayed. Since bluehammer articles contain valuable content, your followers will want to share them with their family and friends. As that link is shared or liked, so are you! Repeat this daily, grow the conversation and your client base!
We'll help you every step of the way
When you subscribe to bluehammer, you are provided with informational articles and walk through's about how to best use bluehammer's tools to grow your client base. Click to learn more and get started
Looking to connect with homeowners, increase your engagement and grow your real estate business? Learn how with bluehammer for Real Estate Agents.
* THIS REPORT IS AN OPINION THAT MAY BE INACCURATE AND IS PROVIDED SOLELY AS AN INFORMATIONAL TOOL NOT DESIGNED TO PROVIDE DEFINITIVE ANSWERS. ALL ELEMENTS ARE OFFERED "AS IS" AND BLUEBOOK EXPRESSLY DISCLAIM ANY AND ALL WARRANTIES, REPRESENTATIONS, AND GUARANTEES OF ANY NATURE, EXPRESS, IMPLIED OR OTHERWISE, INCLUDING BUT NOT LIMITED TO ANY IMPLIED WARRANTIES OF MERCHANTABLITILY, NONINFRINGEMENT, TITLE, QUIET ENJOYMENT, ACCURACY, OR FITNESS FOR A PARTICULAR PURPOSE. IN NO EVENT SHALL BLUEBOOK (OR THEIR SUPPLIERS) BE LIABLE FOR ANY GENERAL, DIRECT, SPECIAL, INCIDENTAL, INDIRECT OR CONSEQUENTIAL DAMAGES OF ANY KIND, OR ANY DAMAGES WHATSOEVER (INCLUDING WITHOUT LIMITATION, THOSE RESULTING FROM USE OF THE PRODUCT, INCLUDING : (1) RELIANCE ON THE MATERIALS PRESENTED, (2) COSTS OF REPLACEMENT GOODS, (3) LOSS OF USE, DATA OR PROFITS, (4) DELAYS OR BUSINESS INTERRUPTIONS, (5) AND ANY THEORY OF LIABILITY, ARISING OUT OF OR IN CONNECTION WITH THE USE OR PERFORMANCE OF INFORMATION) WHETHER OR NOT BLUEBOOK HAS BEEN ADVISED OF THE POSSIBILITY OF SUCH DAMAGES.